DVD Review: 'The Twilight Zone Essential Espisodes'

Ready to check out the best of the best in the zone?  Then follow us as we check out the new to DVD collection of "The Twilight Zone Essential Episodes - 55th Anniv. Edition" out now from CBS/RLJ Home Entertainment.  Sight, sound, mind – next stop review zone!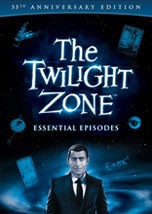 Title: "The Twilight Zone Essential Episodes"
   Grade: 4
   Cast: Burgess Meredith, William Shatner, Telly Savalas
   Director: Various
   Rating: Not Rated
   Runtime: 425 minutes
   Release Company: CBS / RLJ Home Entertainment
   Website: www.us.RLJEntertainment.com
Overall: This is a wonderful and good starter set for the fan and especially uninitiated Twilight Zone newbie.  Housed in this set are of course some of the more iconic stories that made Zone famous, but there's also some hidden gems that may surprise.  The avid fan may have all episodes of course, but for those looking to get back into Rod Serling's askew world, this is a great place to start.
Best Episode: Who of course would argue that the Burgess Meredith tour-de-force segment "Time Enough To Last" was not the quintessential Zone episode.  A great character, perfect story set up, and an ironic ending makes this tale about a simple man who just wants to read Serling's finest hour.
Best Twist: The final reveal in "To Serve Man" (not going to say for the two of you who don't know!) is a true gut punch with a sinister grin.
Best Performance: Burgess Meredith shows his range and bravado in both "Time Enough to Last" and "The Obsolete Man" – that guy was good.
Best Hidden Gem: "Kojack" tough guy Telly Savalas going toe-to-toe with of all things a girl but demonic Talky Tina doll in episode "Living Doll" – may the best man/doll win!
Best Surprise: You get double the William Shatner in this set with the tasty "Nick of Time" and classic "Nightmare at 20,000 Feet."
Worth the Moola: Good starter set?  You betcha!  (Just one star off for no bonus features!)