DVD Review: 'The Theatre Bizarre'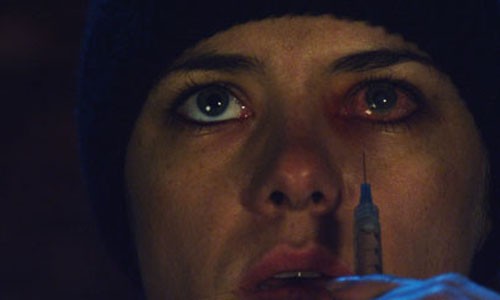 Female serial killers.  Food obsessions that turn ugly.  And hot female bodies with witch heads that only a mother could be proud of.  All are part of the anthology horror outing "The Theatre Bizarre," out now on DVD from Image Entertainment.  The show begins below!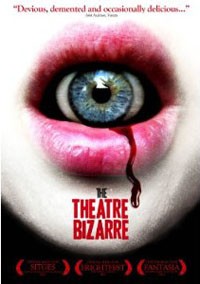 Title: "The Theatre Bizarre"
   Grade: 4
   Cast: Kaniehtiio Horn, Udo Kier, Melodie Simard
   Director: Various
   Rating: R
   Runtime: 93 minutes
   Release Company: Image Entertainment
   Website: www.watchimage.com     
The Flick: Sick and gross is riddled throughout "The Theatre Bizarre" with varying results.  Richard Stanley's The Mother of Toads has ripe acting, but thankfully even more ripe and tasty effects, Buddy Giovinazz's I Love You shows the art of the Hitchcockian thriller is far from dead, Wet Dreams proves Director Tom Savini is the master of...makeup effects, Douglas Buck's The Accident makes mood a macabre element and David Gregory's Sweets is sinfully original and vile at the same time.  Though only Karim Hussain's Vision Stains is the clear five-star winner, with leading lady to watch Kaniehtiio Horn pitch perfect as a gal who kills, drains her victims eye fluid, and injects her own ocular cavity to experience their memories.  With style, substance and memorable music (Simon Boswell back in "Hardware" music score mode!), Vision Stains steals the show.  
Best Feature: The multiple 'Commentaries' (minus one!) do provide some unique insight into each story.  (The one for Vision Stains was too short in my opinion – give me more!)
Best Hidden Gem: Again, to miss the tale Vision Stains would be a sin – shorts rarely get this perfect.  (Although Udo Kier does make a good vaudevillian-esk Cryptkeeper!)
Worth the Moola: For Vision Stains alone – but there are some other notable oddities within.