DVD Review: 'The Revenant'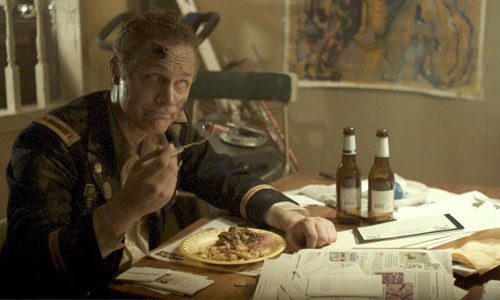 What does one do when they become one of the undead?  Clean up the streets of course!  We're checking out the hilarious and horrific new living dead flick "The Revenant" out on DVD Sept. 18 from Lionsgate Home Entertainment.  The review of the dark gift lies below!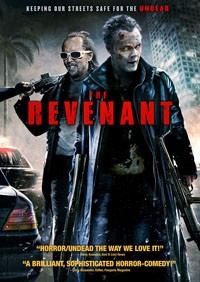 Title: "The Revenant"
   Grade: 5
   Cast: David Anders, Chris Wylde, Louise Griffiths
   Director: Kerry Prior
   Rating: R
   Runtime: 117 minutes
   Release Company: Lionsgate Home Entertainment
   Website: www.lionsgatedvd.com
The Flick: If you love movies that you've never heard of, but that completely knock your socks off, The Revenant is the answer to your prayers.  Part undead horror outing, part buddy-buddy comedy and all together outrageous, The Revenant is a genre jumping delight that manages to take jarring and irregular and make it amazing.  Director Kerry Prior mixes tones with some somber stuff (moments of Near Dark are evident!), comedic bits (best buds David Anders and Chris Wylde are the new charismatic Simon Pegg and Nick Frost!) and reality horror (the war book ends are pitch perfect and disturbing!) to create one of the most original five-star films you haven't heard of.  Get it now.    
Best Feature: The dual Commentary Tracks take care of all your audio needs.  The track with Director Kerry Prior handles the Jack "The Hidden" Sholder honesty in commentary stuff with insight into the construction of the film (originally the war opening was not in!), stories of tall tales (he lied about the influence of the film during the first screening Q&A!) and shooting anger (he's mad at both the LAPD for adding unneeded motorcycle sounds to filming and at Wylde for calling a character Mrs. Ochmonek after famed Alf neighbor!).  The track with the actors is a barrage of ruckus fun with tons of wisecracks (they call Prior the "white Spike Lee!") and a drinking game.  Two sides of the coin with all bases covered – commentary perfection!  
Best Hidden Gem: Loved the tough Emiliano Torres as baddie (and then undead baddie!) Miguel – you rock holmes!
Worth the Moola: From the original flick to extras that kick ass, "The Revenant" needs to both be on my Top Ten DVD list for 2012 and on every movie fans shelf.