DVD Review: 'The People Vs. George Lucas'
Is "Star Wars" master George Lucas really a misunderstood artistic genius or simply a greedy glutton for fan money?  Check out the dissection (via various fan geeks and movie freaks!) of the man who invented everything from Stormtroopers (cool!) to Ewoks (not so cool!) in the new to DVD "The People Vs. George Lucas" out now from Lionsgate Home Entertainment – see the verdict below!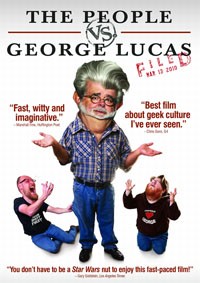 Title: "The People vs. George Lucas"
   Grade: 4
   Cast: George Lucas, Gary Kurtz, Chris Gore
   Director: Alexandre O. Philippe
   Rating: Not Rated
   Runtime: 133 minutes
   Release Company: Lionsgate
   Website: www.lionsgatedvd.com
The Flick: A real interesting collection of insight via the "Star Wars" movie geek perspective, "The People vs. George Lucas" contains quite an array of quirky characters.  From fans who have made Wars inspired shorts to original Producer Gary Kurtz, everyone has strong opinions on the enigma that is George Lucas.  And while the man himself doesn't speak personally in this doc, his actions as seen within clearly shout his opinions.  Items like the inane changing of scenes in the original trilogy special editions (Greedo now shoots Han first from 2 feet away – and misses!), proclaiming that negative of the first three films as been forever altered and even seeing the sheer amount of product available to the public, shows a man who originally seemed to have an artistic dream to share, but has clearly and sadly whored it all out to the highest bidder.  (Shame on you George!)
Best Feature: The 'Poetry Slam Section' is damning, caustic...and funny as hell!
Best Hidden Gem: Loved seeing the gamey and cheesy scenes from the "Star Wars Christmas Special" that Lucas tried to hide – in your face!
Worth the Moola: While not a doc for everyone, those with the same love/hate relationship for the creative yet money-hungry force that is George Lucas will indeed be satisfied.