DVD Review: 'The Lincoln Lawyer'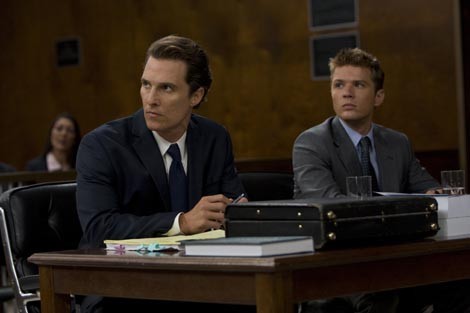 Day dull and you want a little cool and confident McConaughey to brighten things up?  Then look no further then the now out on DVD release of "The Lincoln Lawyer" from Lionsgate to keep your courtroom antics alive – see the verdict below!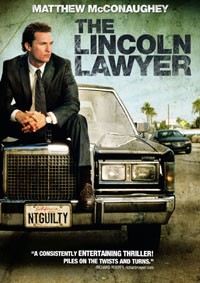 Title: "The Lincoln Lawyer"
   Grade: 4
   Cast: Matthew McConaughey, Ryan Phillippe, William H. Macy
   Director: Brad Furman
   Rating: R
   Runtime: 119 minutes
   Release Company: Lionsgate
   Website: www.thelincolnlawyermovie.com  
The Flick: Films that dare to dabble in legal matters must have a good script to rise above the fray – "The Lincoln Lawyer" has it, but uses it merely as a starting point.  Using John Roman's sharp and clever screenplay (from Michael Connelly's book) in both story and dialogue, Director Brad Furman (who made the equally impressive "The Take") ups the ante by infusing a cast of actors putting on top-notch work.  Of course leading man Matthew McConaughey runs the show as a slick lawyer with a dangerous amount of both confidence and heart (though "Reign of Fire" still rules his body of work!), but add some Ryan Phillippe, William H. Macy, Marisa Tomei, Josh Lucas, John Leguizamo, Michael Pena and even a little hardened Bryan "Malcolm" Cranston and you've got one impressive group of thespians.  (And yes, everyone is actually working hard!)  It's a gripping story with players that care helmed by a guy who pulls it all together – case closed. 
Best Feature: The featurette 'Making the Case' that has candid insight and chat into the film and characters from what seems like everyone in the eclectic cast (love the Leguizamo!) – fascinating.
Best Hidden Gem: The 'At Home on the Road' featurette that's a must for any fan of writer Connelly as he talks career and the film, all the while taking a tour of the LA hot spots that inspired the film.
Worth the Moola: Forget them high priced lawyers – this one is half the price and twice as cool.