DVD Review: 'The Inbetweeners Movie'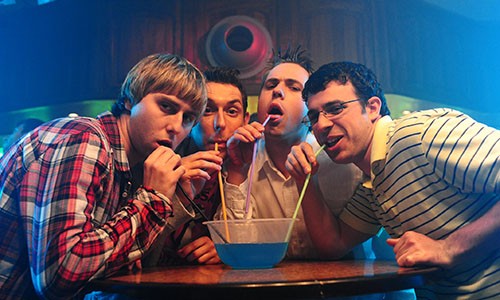 Ready to see an awkward gang of teens go from TV to movies with the same desperate gusto?  Then come with us as we check out the new to DVD "The Inbetweeners Movie" out now from Lionsgate Home Entertainment.  The review of desperate adolescence forms a line below!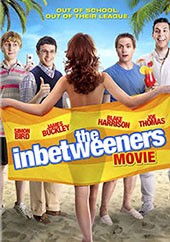 Title: "The Inbetweeners Movie"
   Grade: 1
   Cast: Simon Bird, James Buckley, Blake Harrison
   Director: Ben Palmer
   Rating: R
   Runtime: 97 minutes
   Release Company: Lionsgate Home Entertainment
   Website: www.lionsgatedvd.com
The Flick: I have to admit I'm one of the uninitiated when it comes to the famed UK Inbetweeners TV show, but if it's anything like this rather wry and lame feature film I'm glad it's not on my radar.  The gang of four geeky, needy and nerdy chaps here have little charisma beyond the standard awkward teen, lacking both the memorable character qualities of the "Revenge of the Nerds" clan and the zest of the "American Pie" gang it so desperately wants to be.  Normally in "getting laid" flicks you tend to root for the underdog who's not getting any, but here you are almost hoping for the guys to fail.  Bad jokes, sad comedy and lame laughs, "The Inbetweeners Movie" is somewhere in between bad and boring.
Best Feature: Unsurprisingly all features within – including an unlistenable Commentary track, uninspiring Making-of, bad Bloopers and deadly Deleted Scenes – are even worse then the film they represent.
Best Hidden Gem: Even the Dad who gives them a ride doesn't come off funny – but it did remind me of how great an early James Cromwell was as Robert "Lewis Skolnick" Carradine's dad in "Revenge of the Nerds!"
Worth the Moola: Laughing by accident does not make a great comedy folks – "The Inbetweeners Movie" is case in point.