DVD Review: 'The Horror At 37,000 Feet'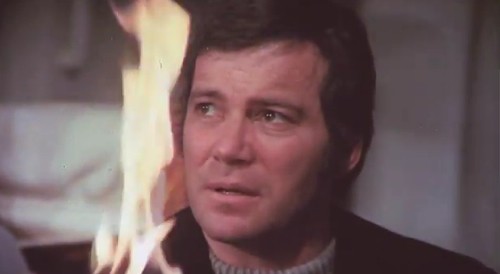 Ready to hit the skies with Shatner in panic mode?  No it's not a "Twilight Zone" episode, but merely the new to DVD movie "The Horror at 37,000 Feet" out now from CBS/Paramount Home Entertainment.  We review the terror in the skies below!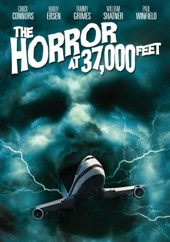 Title: "The Horror at 37,000 Feet"
   Grade: 3
   Cast: Chuck Conners, Buddy Ebsen, William Shatner
   Director: David Lowell Rich
   Rating: Not Rated
   Runtime: 73 minutes
   Release Company: CBS/Paramount Home Entertainment
   Website: www.paramount.com
The Flick: Okay, so this made-for-TV movie has the sting of 70's cheese, but for what it tries to accomplish the flick is pretty decent.  You have a band of passenger misfits on a plane where an ancient relic decides it's had enough and fights back – let the evil wind commence!  Not only do you have some notable talents like Buddy "Beverly Hillbillies" Ebsen and early Paul Winfield as a soulful doctor, but there's a fantastic turn by an early William Shatner playing a alcoholic priest who has lost his faith.  Gamey, sometimes laughable, but even still engrossing, there's no shame in liking this moldy oldie.    
Best Feature: Cold this made for TV flick just be too damn old for extras?  Guess so as there's not a one on this puppy!  (Not even a Shatner interview!)
Best Hidden Gem: Russell "Gilligan's Island" Johnson has a short bit here as a member of the flight crew – he's cold as ice!  (Major pun here!)
Worth the Moola: In the mood for some old school TV movie horror – gets the job done.