DVD Review: 'Silent Night, Deadly Night Double Feature'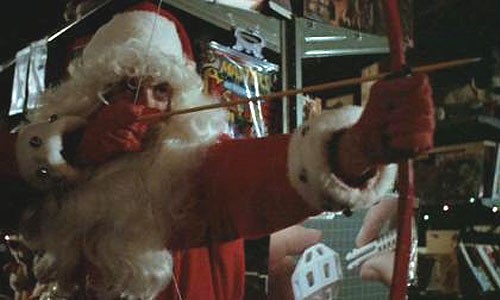 Punish!  We're heading into dark holiday territory – double time!  Check out our review of the new to DVD "Silent Night, Deadly Night Double Feature" with parts one and two of the controversial killer Santa film series out Dec. 4 from Anchor Bay Entertainment.  The bag of goodies and bloody axe hit the chimney review bottom below!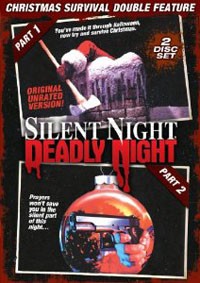 Title: "Silent Night, Deadly Night Double Feature"
   Grade: 2 1/2
   Cast: Robert Brian Wilson, Linnea Quigley, Eric Freeman
   Director: Charles E. Sellier Jr. / Lee Harry
   Rating: Unrated / R
   Runtime: 85 minutes / 88 minutes
   Release Company: Anchor Bay Home Entertainment
   Website: www.anchorbayent.com
The Flicks: Even by B-movie flick standards, "Silent Night, Deadly Night 1 and 2" are scraping the bottom of the barrel.  And not even for decency sake, but simply due to horrible production design and acting that makes Carrot Top look like a classically trained thespian.  Part one features Robert Brian Wilson in one gamey performance as a man who is troubled by all things St. Nick after a killer dressed like one kills both his parents in front of him.  Naturally wearing the red suit as a store Santa sets off the unstable young man and mayhem does ensue.  Wilson is about as layered as a tepid puddle and has the bad line delivery to back it up.  (Aka a lot of "punish" and grunting!)  Only good items here are the kills of super hot and exposed 80's nude queen Linnea Quigley and a little axe accident with a local sledding bully.  Other than some mild thrills, the only thing deadly the original film itself is the selection of Wilson to play the lead.  The second outing fares even worse, taking most of the footage from the first film and incorporating it with new footage that's somehow worse.  (Is that even possible?)  This time it's Eric "overacting" Freeman as the mad holiday party pooper who does more eyebrow acting than Grocho Marx.  No good new kills (an umbrella that opens after - oh, boy!), nudity factor is merely suggested here and the lazy turd barrage of original footage doesn't help.  The second helping here should be avoided – gluttony is a sin after all.     
Best Features: While I did dig reading the scathing review excerpts from the original films' release under the heading 'Santa's Stocking of Outrage,' it's the audio tracks of shame that make this set interesting.  The original contains a mere phone interview with helmer Charles E. Sellier, Jr. who seems to be distancing himself from the work while promoting, while the second has a full length track – both are a holiday hoot for those looking for shame, remorse and embarrassment in their filmmakers.
Best Hidden Gems: The showing of mom's big bare chest in the original did present a slight ashamed thrill, but hat's off here goes to lovely Linnea "Return of the Living Dead" Quigley for adding a little sex to Santa's sack in the first go round – they don't make them like her anymore!
Worth the Moola: Sick, perverse and Santa sadistic, this one is only for those who have are looking for a little homicide in their holiday.