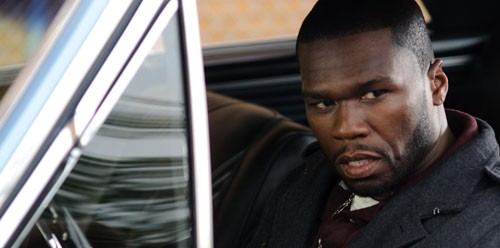 A heist.  A betrayal.  Revenge.  So goes the old traditional story of vengeance, now told in the new to DVD flick "Set Up" out from Lionsgate.  Does Curtis "50 Cent" Jackson get the bitter man on a mission job done – check out below!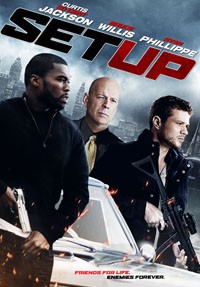 Title: "Set Up"
   Grade: 2
   Cast: Curtis "50 Cent" Jackson, Bruce Willis, Ryan Phillippe
   Director: Mike Gunther
   Rating: R
   Runtime: 85 minutes
   Release Company: Lionsgate
   Website: www.lionsgatedvd.com  
The Flick: "Set Up" has one major flaw – no question.  It's not the been-there-done that story of betrayal and revenge ("Faster" rehashed that stuff and it still kicked ass!), nor the slick direction by Mike Gunther (his action staging is very Tony Scott-esk!) or even the supporting cast that includes powerful work by the likes of Ryan Phillippe, Bruce Willis or Randy Couture.  It's the casting (or should I say mis-casting!) of lead Curtis "50 Cent" Jackson in the lead role of a man out for revenge.  With his seemingly sweet demeanor (his mouth is open in wonderment the whole film!) and quiet gentle nature, Jackson has neither the intensity, presence, nor bravado to pull off a role of this vengeful magnitude.  (I sense that Jackson's credit as producer had something to do with the dire choice of his casting!)  He seems to be walking through the whole picture with the same blank and out-of-place mundane look – hardly the bitter face of a focused man hellbent on revenge.  
Best Feature: Kind of get the casting of Jackson based on the fact that in his 'Interview Section' he talks about how he "read eight scripts and out of the eight this was the one I felt was really strong" – not a good reason to make a film.
Best Hidden Gem: Loved seeing James Remar as Phillippe's racist and sassy father – that's a guy who knows how to portray anger!  (Also see his early work in "48 Hrs.!")
Worth the Moola: Sorry, I wouldn't pay even "50 cents" via the bargain bin for this lack of lush leading man waste of material – want to see it recently done right check out Dwayne Johnson in "Faster."  (That means you too Curtis!)