DVD Review: 'Scream Factory All Night Horror Marathon Vol. 2'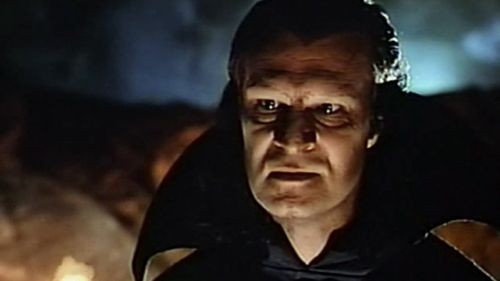 Ready to go another round with horror flicks from the past?  Then follow us down the Scream Factory hallway as we check out the new to DVD "Scream Factory All Night Horror Marathon Vol. 2" out now for Halloween.  The victims get skewed and reviewed below!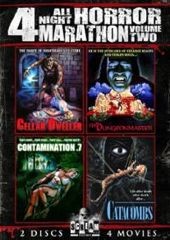 Title: "Scream Factory All Night Horror Marathon Vol. 2"
   Grade: 3 1/2
   Cast: Richard Moll, Debrah Farentino, Ian Abercrombie
   Director: Various
   Rating: PG-13 / R / Unrated
   Running Time: 333 Minutes
   Release Company: Shout! Factory Home Entertainment
   Website: www.shoutfactory.com
The Flick: Again four flicks on one disc are cool, but there are some serious spaces in quality on this set.  Top of the heap is the cult classic "The Dungeonmaster" which pits Jeffrey Byron and his arm computer against Satan madman Richard "Night Court" Moll.  It's a fun flick that has Byron going through various challenges that are directed separately by the likes of Charles Band and John Carl Buechler – good to see it again.  In the so-so category there's "Cellar Dweller" about a comic book creature made flesh that lags on the effects but works in great characters.  You have a young Debrah Farentino, pre-"Head of the Class" Brian Robbins and even a little Jeffrey Combs love cameo.  On the downside "Catacombs" about evil inside a monastery is all over the place and feels like the filmmakers made things up as they went along.  And last and certainly least is the hard to get through "Contamination .7," a horrendous tree roots killing people flick that has enough bad dubbing and Ed Wood-esk folks rolling around covered in fake tree roots to make "Toxic Avenger" look like "Psycho."
Best Feature: Even though the flick sort of sucks, the candid and honest full-length commentary by Director David Schmoeller is priceless and worth the bread alone.  He not only talks about his own mistakes on the film (he told the main actress she was smiling too much!) and admits to flaws (there was no script or even an ending when they first started shooting!), but also grouses about former "Crawlspace" star Klaus Kinski and gives detailed info on working for Charles Band and his Dad Albert during his time at Empire Pictures.  Fascinating listen.
Best Hidden Gem: Toss between those who have not seen "The Dungeonmaster" and that damn fine commentary track.
Worth the Moola: Look fans, between Dungeonmaster and Schmoeller's Empire insight this one is worth every damn penny.  (Though you may want to skip "Contamination .7" – it's dreadfully deadly!)