DVD Review: 'Scream Factory All Night Horror Marathon'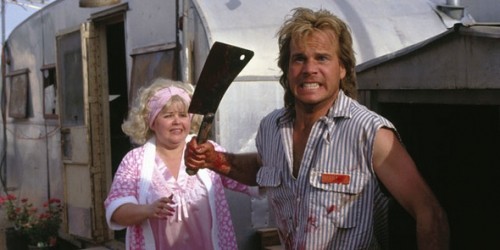 Ready to spend a little all night quality time with some B-movie horror flicks from the past?  Then follow us as we check out the new to DVD 4-movie compilation "Scream Factory All Night Horror Marathon" featuring the films "What's The Matter With Helen?," "The Vagrant," "The Godsend" and "The Outing" out now from Shout! Factory's horror division Scream Factory.  The fest unspools below!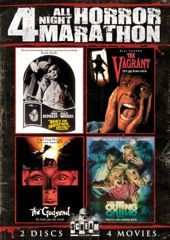 Title: "Scream Factory All Night Horror Marathon"
   Grade: 4
   Cast: Bill Paxton, Shelly Winters, Wilhelmina Green
   Director: Various
   Rating: Not Rated - R
   Running Time: 372 Minutes
   Release Company: Shout! Factory
   Website: www.shoutfactory.com
The Flicks: Even if some films are better than others you have to give props to Scream Factory for being innovative.  Putting together four cheesy grade-B horror titles in one set guarantees at least some cool terror fun for everyone.  In this case three of the four flicks are actually thoroughly enjoyable.  "The Vagrant" (which I'm surprised I've never heard of!) features new home owner Bill Paxton being tormented by a gruesome looking homeless bad guy Marshall Bell and also bothered by tough cop Michael Ironside.  It's full of cheddar, one too many misdirects and overall Corman-esk tone, but it's still a fun ride.  "The Godsend" is like an early mix of "The Omen" with "Orphan" beginning with Donald Pleasence's daughter Angela (she's got one creepy stare!) picking an unsuspecting family to not only have the birth of her child in their home, but leave it there forever.  What follows is a young offspring Bonnie (best played by Wilhelmina Green!) picking off the various other children in the household – this one gets the job done for sure.  "The Outing" (which frankly fits better under the title of "The Lamp") is a flick about an ancient lamp and the unfriendly jin within – again even with 80's hair via Valley girl hottie Andra St. Ivanyi it's a decent time.  The oddball (and most of them are here anyway!) out is the 1971 flick "What's The Matter With Helen?" featuring Debbie Reynolds and Shelly Winters as a couple of moms of two young sons who are convicted of murder and they both flee to start a new life.  Even for the 70's the flick is slow, filled with musical numbers and frankly low on thrills and chills until the last five minutes.  Not a bad film, but in this fest of frightful fun it's strange addition.  
Best Feature: No features on this sucker, but would have loved to have heard from Paxton or Bell about working on their flick.
Best Hidden Gem: Again, love seeing the Ironside in "The Vagrant" playing his usual heavy and condescending cop tough guy – nobody does it better!
Worth The Moola: With the exception of more laid back Helen, this fest is well worth the awesome low price and would certainly make Halloween a little more eerie this year.