DVD Review: 'Saving Private Perez' - First Five-Star Home Release Of 2012!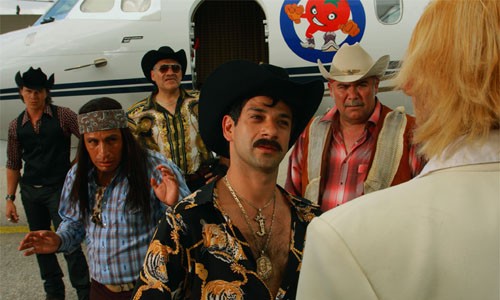 It's the first five-star home release of 2012 – and it's not even American!  (There's a surprise – NOT!)  Showing a true cinematic prowess is the new to DVD release "Saving Private Perez" out Jan 10 from Lionsgate Home Entertainment.  What makes it so good?  Keep reading!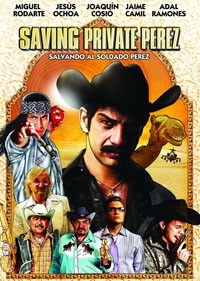 Title: "Saving Private Perez"
   Grade: 5
   Cast: Miguel Rodarte, Jesus Ochoa, Jaime Camil
   Director: Beto Gomez
   Rating: PG-13
   Runtime: 103 minutes
   Release Company: Lionsgate
   Website: www.privateperez.com
The Flick: A wonderfully Mexican mix of deep drama, broad comedy and Dirty Dozen style action, "Saving Private Perez" is like a more accomplished "Let's Get Harry" minus the cheese.  The tale of a notorious gangster who, in an attempt to regain the respect of his mom, decides to snatch back his brother from the clutches of Iraq warzone where he's MIA (with the help of a very odd gang!) is one unqiue and captivating little flick.  Told without regard to category (it's a blend of everything tasty!) there's more than enough mood (lead man Miguel Rodarte runs the emotional gamut here!), mayhem (the gunplay and explosions are blood pumping!) and malarkey (the 'after getting ready' pose is an insta-classic!) to keep any disillusioned movie geek filled with originality pride.  Great characters, great energy, great story – great movie.  
Best Feature: There's only a short 'Making-of' that does leave you wanting.  (Commentary track anyone?!)  But sometimes less is more - viva la Saving Private Perez!
Best Hidden Gem: Loved the layered killer played by young Rodrigo Oviedo - he was such a quiet man!
Worth the Moola: Don't let the subtitles fool you (or stop you – don't be lazy!) – this one is indeed here to save you...from movies that suck!  Buy it ASAP!