DVD Review: 'Rogue River'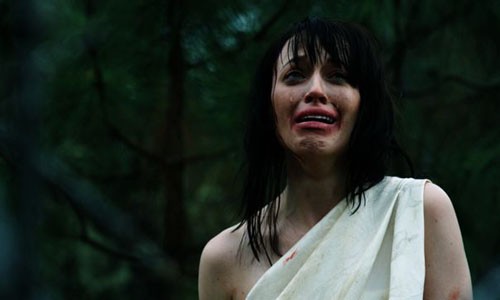 Mom said not to talk to strangers – someone didn't listen.  We're examining the dark new tale of horror and water titled "Rogue River," out June 5 from Lionsgate Home Entertainment.  The review river flows below!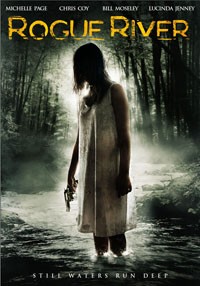 Title: "Rogue River"
   Grade: 3
   Cast: Bill Moseley, Michelle Page, Lucinda Jenney
   Director: Jourdan McClure
   Rating: R
   Runtime: 81 minutes
   Release Company: Lionsgate Home Entertainment
   Website: www.lionsgatedvd.com
The Flick: Fun is not exactly how I would describe the dim horror outing "Rogue River."  How about dense?  Implausible?  Sadistic?  Perhaps even a bit on the dim side?  Okay, it's all of the above.  Grieving gal gets taken in by Devil's Reject Bill Moseley (if you see that guy folks run!) and eerie wife Lucinda Jenney (the only interesting performance here!) in one creepy and torturous time that is as painful for us as it is for actress Michelle page.  (Though I suspect not for the same reason!)  Even horror fans will come out of this one feeling...dirty.   
Best Feature: This is a rare case where the feature length 'Commentary' eclipses the movie itself and even makes the DVD worth buying!  So funny (everyone is surprisingly light for such a dark flick!), candid (love when someone says, 'She goes back to sleep – anyone else have a problem with that?') and outright laugh inducing (Moseley mocks everything – he should be a damn comedian!) is this golden laced track that it's a must hear.  (And I did from start to finish!)
Best Hidden Gem: Again, missing the 'Commentary' track would be like opening a beautifully wrapped Willy Wonka bar and promptly throwing the delectable chocolate aside – the inside is where the treat lies.
Worth the Moola: I say skip the forgettable flick itself and go right for the track that tickles.