DVD Review: 'Project Nim'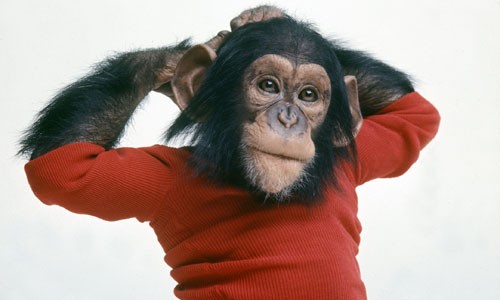 What if elements of "Rise of the Planet of the Apes" happened...for real?  Such is the case with the revealing and heartbreaking doc "Project Nim," out this week on DVD from Lionsgate Home Entertainment – review to follow.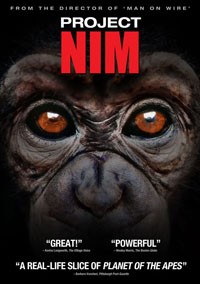 Title: "Project Nim"
   Grade: 4
   Cast: Nim
   Director: James Marsh
   Rating: PG-13
   Runtime: 93 minutes
   Release Company: Lionsgate
   Website: www.lionsgatedvd.com
The Flick: As a documentary filmmaker, James Marsh is becoming a real effective storyteller.  His previous outing "Man on Wire" was a riveting story of a man who dared to take his love of tight rope walking to new heights and his latest "Project Nim" also doesn't disappoint.  It's saga of the rise and eventual fall of chimpanzee Nim, who was raised in a human family as part of an experiment, is disturbing stuff and as painted by master craftsman Marsh, is a picture of sadness, neglect and inhuman actions.  Beautiful – but a hard watch.  
Best Feature: This is one of the few times that I actually felt more and more respect for filmmaker Marsh with each passing extra.  (Love the docs and how they managed to create some moody visuals where there were none to be had – Marsh is good!)  Also 'Bob's Journey' is an inspiring featurette, but ultimately it's Marsh's full-length 'Commentary' that is most impressive and revealing.
Best Hidden Gem: Loved the insight by Marsh on how to make your subjects more comfortable to talk during those Q&A sessions!
Worth the Moola: It's a tad harrowing and morose, but Marsh's work (and extras within!) is well worth the look.