DVD Review: Pink Floyd - 'The Making Of The Dark Side Of The Moon'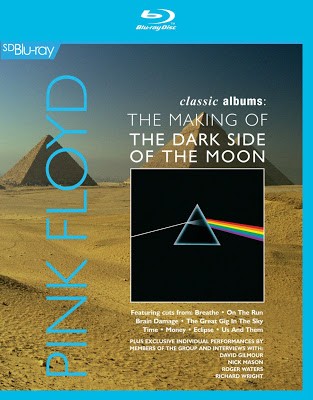 Pink Floyd's absolutely seminal and necessary The Dark Side of the Moon is one of the best records ever released and remained on the Billboard 200 for a staggering 741 consecutive weeks. There's not much to top that, unless you're able to peel back to curtain, go behind the scenes and hear from all four members of the band - Roger Waters, Richard Wright, David Gilmour and Nick Mason – regarding the making of each and every song on the record.
Well, The Making of Dark Side of the Moon gives fans that opportunity.
Released to coincide with the album's 30th anniversary, The Making of Dark Side of the Moon also features interviews with engineer Alan Parsons and the late designer Storm Thorgerson. If you've seen the television version, you're still going to want to get the blu-ray version because there's 40 additional minutes you've never seen before, and this is where The Making of Dark Side of the Moon is worth its weight in salt. There are acoustic renditions of "Brain Damage" and "Breathe," Roger Waters discussing the genesis of timeless cuts "Money" and "Time," and even a spotlight on the guitar work of David Gilmour.   
On The Making of Dark Side of the Moon, there are highlights aplenty, so much to make even the most ardent Pink Floyd worshipper blush.  
Grade: A-