DVD Review: Paul McCartney Gives Back With 'The Love We Make'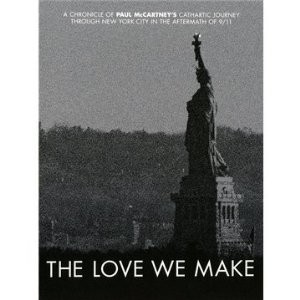 The Love We Make is a powerful documentary centered around Paul McCartney's journey to help give something back to New York City and its residents after tragedy struck on September 11, 2001. McCartney was on a plane preparing to take off from JFK Airport when the captain came on and announced that planes had struck the World Trade Center. McCartney, like most Americans in the wake of 9/11, felt he needed to do something, and felt he needed to give back in some way, so he planned an event. Albert Maysles and Bradley Kaplan direct the mostly black and white film, detailing McCartney's every move leading up to the monumental event.
The Love We Make features interviews with a number of celebs including Dan Rather, Pat O'Brien and Howard Stern, and well as an interesting encounter with Ozzy Osbourne and backstage visits with a literal who's who featuring Steve Buscemi, Eric Clapton, President Bill Clinton, Leonardo DiCaprio, Harrison Ford, Billy Joel, Jim Carrey, and the daughter Stella. Also, as you would expect, the film features a number of performance clips, including shots of rehearsals and performances ("I'm Down," "Yesterday," "Let It Be," "Freedom") from the October 20, 2011 concert. Throughout the Love We Make, McCartney is humble as we maneuvers through the heralded streets of the city that never sleeps, greeting all those he passes, which might just be the most special part of this doc. All in all, the Love We Make is the personification of doing anything you can for something bigger than yourself.
Grade: B+