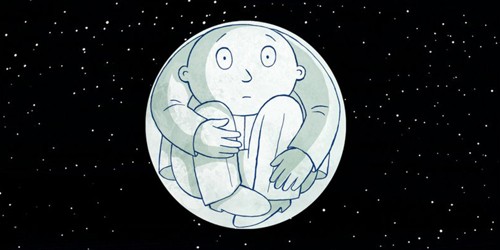 What happens when the man in the moon gets bored?  We're gonna find out as we check out the new to DVD animated outing "Moon Man" out now from Cinedigm and Tribeca Film.  We review the travel plans of the moon man below!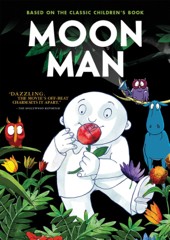 Title: "Moon Man"
   Grade: 2
   Director: Stephan Schesch
   Rating: Not Rated
   Runtime: 95 minutes
   Release Company: Cinedigm Home Entertainment
   Website: www.cinedigm.com
The Flick: Good news?  There's some serious sweetness in the animation and characters of "Moon Man."  From the naïve and curious moon man himself to his sensitive scientist friend the characters here are - pardon the pun - well drawn.  Bad News?  This German import comes sans original language and subtitles and instead provides a forced dubbed version that is distracting as hell.  There's a slowness and ethereal quality to the work that makes it obvious that it's not American – the English language therefore serves to only to frustrate.  (Even some kids can read too, guys!) 
Best Feature: No features on this sucker and again a shame since someone obviously put a lot of heart and soul into the project.
Best Hidden Gem: The bits where no one is talking and the moon man is simply exploring the wonders of the earth are by far the best moments.
Worth the Moola: Just a few good visuals with no regard for the original language of the piece – pass.