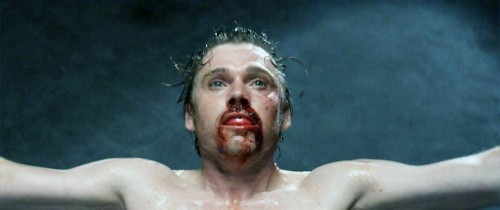 Ready for a little life lesson in a locker?  Then check out the new anthology flick "Locker 13" out on DVD April 29 from Arc Entertainment.  We review the doors and what's behind them below.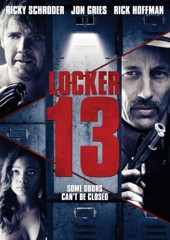 Title: "Locker 13"
   Grade: 3 1/2
   Cast: Ricky Schroder, Jon Gries, Rick Hoffman
   Director: Various
   Rating: R
   Runtime: 103 minutes
   Release Company: Arc Entertainment
   Website: www.arc-ent.com
The Flick: More a moral "Cat's Eye" then "Creepshow," "Locker 13" is a decent addition to the anthology stories genre.  Stories include a boxer who gets some deadly magic gloves, a secret society initiation gone wrong, a suicide jumper who gets some unneeded help and a hit man looking for truth.  All are interesting enough (the boxer one does pack a finale punch!) and house some notable acting work (Rick "Hostel" Hoffman plays a convincing Latino hitman!) but the best of the bunch is the wrap around story ending that finds a man chatting in the flesh...with himself.  Only down side is also the wrap around which takes place in an old Wild West town for tourists for no apparent reason whatsoever.  (Huh?)  But while not connected very well, these tales do tantalize.  
Best Feature: There's not a one feature on this sucker and with a whopping five directors that's almost a DVD extra crime.
Best Hidden Gem: Jon Gries makes a decent narrator of sorts, but I really dug the disillusioned boxer played by Ricky "Silver Spoons" Schroder.
Worth the Moola: Good those looking for a "Creepshow" light to tide you over.