DVD Review: 'Lemonade Mouth'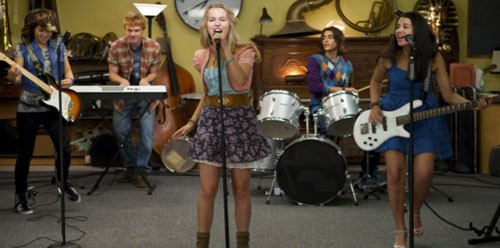 With teen kids and their bands all the rage these days, leave it to the folks over at the mouse-eared Walt Disney company to infuse a little modern song and dance of their own.  The result is the music driven flick "Lemonade Mouth" (on shelves May 24 from Disney DVD) about five very different kids who form an unlikely musical connection.  Check out the review and extras below.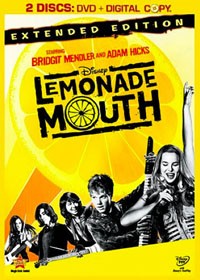 Title: "Lemonade Mouth"
   Grade: 3
   Cast: Bridgit Mendler, Adam Hicks, Hayley Kiyoko
   Director: Patricia Riggen
   Rating: G
   Runtime: 107 minutes
   Release Company: Disney
   Website: http://disneydvd.disney.go.com/lemonade-mouth.html
The Flick: In what feels like "The Breakfast Club" light meets "School of Rock," "Lemonade Mouth" is surprisingly good.  Keeping the John Hughes mold and filtering it through the Disney format, five kids including the Sheedy spaz (moody gal Bridgit Mendler), Hall's geek (quiet and thoughtful Adam Hicks), Ringwald's hottie (tough chick Naomi Scott), Nelson's outcast (heartthrob Blake Michael) and mix of all of the above (inspiring gal pal Hayley Kiyoko) all meet in detention and under the eye of Martin star Tisha Campbell–Martin form a pretty cool band named "Lemonade Mouth."  The songs are toe tapping (LOVE Determinate!), the drama decent (like the awkward young relationship between Hicks and Mendler!) and cheesy Disney humor fully intact (Principal Christopher McDonald is even more goofy then he was in Thelma & Louise!), but all in all an enjoyable flick.       
Best Feature: Extended performance of Living' on a High Wire – again the music is memorable here.
Best Hidden Gem: For those who want to become future band kids (no, not future Justin Biebers!) there is a Rock-Along that works like a karaoke for the flick – rock on.
Worth the Moola: For those who don't mind their high school flicks recycled in a creative way and put to some good music, pucker up baby!