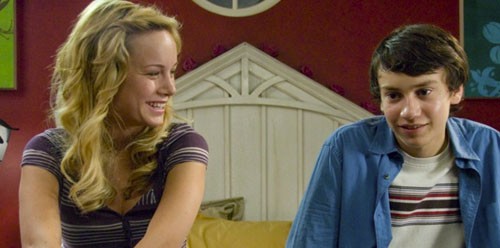 Ready for another story of awkward teens, ignored adolescence, over-bearing parents and your first crush – all without the happy ending?  Check out the quirky little tale of a guy known as "Just Peck" hitting DVD this week ala Image Entertainment.  Check out the school checklist below!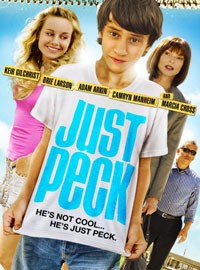 Title: "Just Peck"
   Grade: 3 1/2
   Cast: Keir Gilchrist, Brie Larson, Camryn Manheim
   Director: Michael A. Nickels
   Rating: Not Rated
   Runtime: 93 minutes
   Release Company: Image Entertainment
   Website: www.image-entertainment.com  
The Flick: While there are tons of character clichés within "Just Peck," there are some equally interesting original elements as well.  On the down side are the laughable one-note cheese turns by Camryn Manheim (I adored her on "The Practice" – what happened?!) as the gamey school principal and both Marica Cross and Adam Arkin as Peck's stern yuppie parents – all of which belong more in a slapstick setting then a heady teen drama.  But on the up side there is a notable and unusual portrayal of a timid kid coming into his own (via Peck himself Keir Gilchrist!) and his strange, not-exactly-fairytale partnering with one messed up school senior (stand-out troubled gal Brie Larson) – far from the standard Ferris fluff fare.  But it is that uneven and discombobulating balance between both that gives the flick a notable appeal – even if one does seem out of place.  At it's worst the film is a tribute to the Wayans School of clowning, but at it's best the poignancy of Peck may very well surprise you. 
Best Feature: Not a featurette, outtake or even blooper reel to be had – shameful.
Best Hidden Gem: Brie Larson who creates one of the most original and complex yet realistic teens in a character world dominated with familiarity – she's one to watch.
Worth the Moola: For those who can stomach the adult vaudeville, there is a deep story within the fodder.