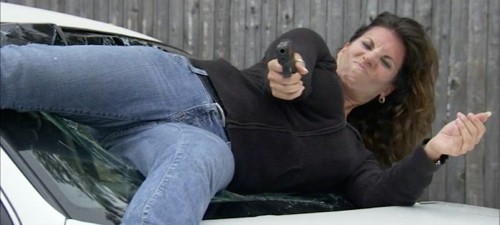 She's mad, she's mean and she's...hot?  We're seeing if there is truth in advertising for the new to DVD action flick "Jesse" out now from Arc Entertainment.  We check out the girl and the guns below!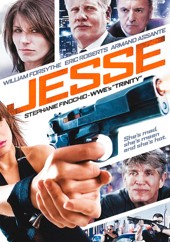 Title: "Jesse"
   Grade: 3
   Cast: Stephanie Finochio, William Forsythe, Eric Roberts
   Director: Fred Carpenter
   Rating: R
   Runtime: 86 minutes
   Release Company: Arc Entertainment
   Website: www.arc-ent.com
The Flick: As a movie "Jesse" plays like a bad student film.  It's got choppy editing, side characters with some atrocious acting and decent thespians of note only show up for small spurts to give credibility.  Fortunately lead Stephanie Finochio (who I read was also a pro-wrestler!) who plays Jesse is unconventionally captivating.  Complete with a heavy Marisa Tomei in "My Cousin Vinny" accent, sporting the appealing looks of the everywoman, a body kicks ass and looks good doing it and housing an attitude that makes perps want to be arrested immediately, Finochio's rogue cop is unlike anything I've ever seen.  I was hooked.
Best Feature: No features on this sucker – what gives?  No extras with Finochio or even a commentary track?  Rip!
Best Hidden Gem: Even though they only show up in small doses (Armand Assante is in one friggin' scene man!) Assante, Eric Roberts and especially William Forsythe chew the scenery quite nicely.
Worth the Moola: For those with a hot everywoman hankering, Finochio's got some fire.