DVD Review: 'Hostel: Director's Cut' Is Generous, In Depth

When it comes to horror films, or any film for that matter, I always look forward to the director's cut.
Hostel
was advertised as the sickest, most twisted and scariest horror film to be made in the last 10 years. However, I wondered how all this could be packaged into an R-Rated film (you can thank the MPAA for that bit of confusion).
After its release, people either praised or absolutely hated the film and
Eli Roth's
filmmaking abilities. Being the curious writer that I am, I wanted to get it straight from the source: Eli Roth and those involved in the making of "Hostel." And thanks to DVD, I can.
"Hostel: Director's Cut" is very in depth. The three commentaries alone give so many views on how the film came to be and what it was like during production. What I found in Roth in his solo commentary was his passion for the genre. He gives advice directly to the film student and shares his own success story of how he made it in the business. Also, Roth explains how the idea for "Hostel" came about (And you know what? The concept of wanting to know what it would be like to kill somebody and then pay for that experience is a pretty twisted idea).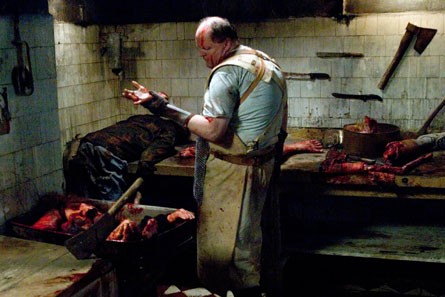 A nice bonus that was not available in the original "Hostel" DVD release is a radio interview with Roth, an Icelandic meal with actor Eythor Gudjonsson and an interview with Takashi Miike (and if you want to see some wicked stuff,
Audition
and
Visitor Q
are on Miike's resume).
On the first disc is a three-part feature (shot by Eli's brother, Gabriel) that takes you through the making of the film, from the last-minute frantic casting to the premier in Iceland. Two separate treats are the multi-angle look at the "Kill the Car" scene (once again, a gift to film students) and the mini doc on the makeup masterminds Greg Nicotero and Howard Berger of KNB EFX Group.
This DVD is generous, and not in just how much there is. This is a DVD for aspiring filmmakers of all genres to have in their collection. You get a great, modern horror flick (yes, I'm one of those who liked the film) and a look at the talented people behind it.
Next week: "
This Film is Not Yet Rated
"
Review by
Destiny Lopez
Starpulse.com contributing writer