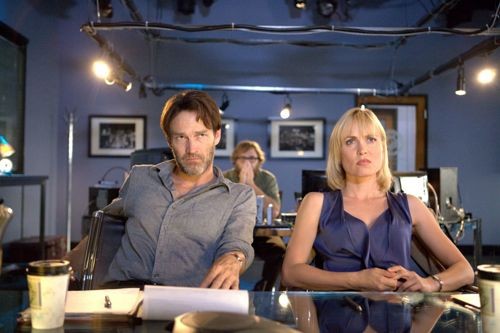 Suspects can lie, but video tells the truth.  Such is the premise of the new to DVD thriller "Evidence," out now from RLJ Entertainment.  Follow the clues and reviews below!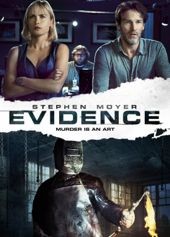 Title: "Evidence"
   Grade: 3
   Cast: Stephen Moyer, Radha Mitchell, Dale Dickey
   Director: Olatunde Osmunsanmi
   Rating: Not Rated
   Runtime: 94 minutes
   Release Company: RLJ Entertainment
   Website: www.RLJEntertainment.com  
The Flick: I actually liked the premise of the sometimes slick "Evidence" – finding out what happened during a mass murder from the video evidence.  Plus the visual investigators are Stephen "True Blood" Moyer and Radha "Pitch Black" Mitchell so how can you lose?  Problem here is that the footage they're watching is like a found footage flick itself and it takes up a huge bulk of the flick.  So much so that our two trusty cops are almost relegated to co-star work.  (Not great when both are on the box!)  But there's still enough of them and good visual savvy to make this worth checking out.
Best Feature: No features on this one – telling??
Best Hidden Gem: Loved seeing Dale "Patti the Daytime Hooker via My Name Is Earl" Dickey in a creepy and eerie role here.
Worth the Moola: Worth a night's rental, but buyer beware that Moyer and Mitchell are the cheese on this movie rat trap.