DVD Review: 'Detention Of The Dead'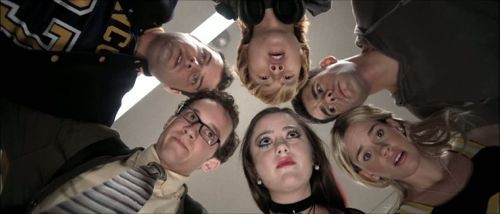 "The Breakfast Club" meets..."Dawn of the Dead?"  We're checking out the interesting looking "Detention of the Dead" out now from Anchor Bay Home Entertainment.  Offenders to the right, undead to the left – all reviewed below!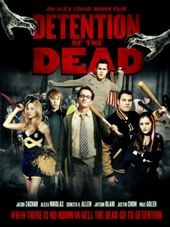 Title: "Detention of the Dead"
   Grade: 3 1/2
   Cast: Jacob Zachar, Alexa Nikolas, Justin Chon
   Director: Alex Craig Mann
   Rating: Not Rated
   Runtime: 87 minutes
   Release Company: Anchor Bay Home Entertainment
   Website: www.anchorbayent.com
The Flick: "Detention of the Dead" is a mixed bag of ups and downs.  On the down side the parody element of stereotypical high school kids is a tad embarrassing, not to mention the comedy forced at times.  But on the upside some of the group pulls off the 'too cool for school' vibe, especially Goth chick Alexa Nikolas and stoner Justin Chin.  (Love his new nifty way to use the school Guillotine paper cutter!)  Also dug that this one was taken from a play, but thankfully never felt stagnate as Director Alex Craig Mann keeps the flick moving.  So even with all the pros and cons, ups and downs, Detention does decent dead. 
Best Feature: The very comprehensive 'Behind the Scenes' shows how the film was made with such a short amount of time and money – kind of inspiring stuff!
Best Hidden Gem: Loved the tortured severed head of Michele Messmer's Mrs. Rumblethorp and the comedy that ensues.
Worth the Moola: "Detention of the Dead" is true to title – being trapped sucks ass, but you might as well enjoy things while you're there.