DVD Review: 'Blood Runs Cold'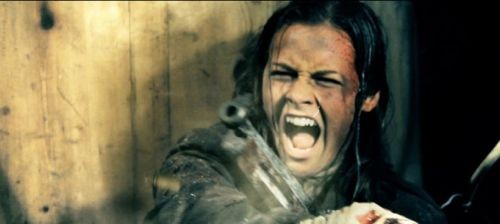 Ready to get your terror on?  Then follow us as we review the new to DVD flick "Blood Runs Cold" out July 2 on DVD from Gaiam Vivendi Entertainment.  Axe vs. gun review below.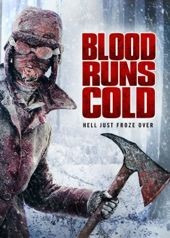 Title: "Blood Runs Cold"
   Grade: 1
   Cast: Hanna Oldenburg, Patrick Saxe, Ralf Beck
   Director: Sonny Laguna
   Rating: Not Rated
   Runtime: 78 minutes
   Release Company: Gaiam Vivendi Entertainment
   Website: http://www.gaiam.com
The Flick: "Blood Runs Cold" is yet another dull slasher flick that has nothing new to add to the genre.  There are no clever characters (the lead gal starts off interesting then simply turns victim!), no cool kills (axe to the head has been done to death!) and frankly the film takes way too long to get started.  The only saving grace is the odd looking masked man behind the mayhem is creepy for sure (looks like a cross between the gas masked chainsaw minion of Phantasm II and Abe Sapien from Hellboy!), but even then there's no background on the character nor rhyme or reason behind his killings.  Is just being a slasher flick good enough – not for this horror hound! 
Best Feature: The only feature, a 'Making-Of,' simply shows footage taken on set and offers no insight into the story, characters or setting.  (Aka there was no new words to be said!)
Best Hidden Gem: Both lead gals do get topless, but in sex scenes that are both awkward and far from sensual.  (What gives?!)
Worth the Moola: Don't care about seeing anything original in the horror genre – here you go.  (Even kills need thrills fans!)