DVD Review: 'Answer This!'
Brains, the bible and...beer?  So goes the strange story of the new to DVD flick "Answer This!" out Jan 10 from Lionsgate Home Entertainment.  The pub review crawl starts below!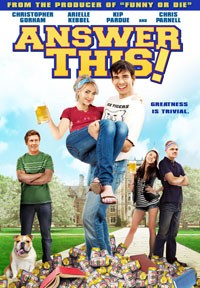 Title: "Answer This!"
   Grade: 3 1/2
   Cast: Christopher Gorham, Evan Jones, Kip Pardue
   Director: Christopher Farah
   Rating: PG-13
   Runtime: 105 minutes
   Release Company: Lionsgate
   Website: www.lionsgatedvd.com
The Flick: Never in a million years would I think a movie about a guy who studies the bible and also has an affinity for competitive bar trivia could be a good mix.  But the clever and engaging "Answer This!" just manages to pull it off, partly due to the witty writing ala helmer Christopher Farah  and party due to a cool cast including lead man Christopher Gorham.  (Plus his chemistry with 'every woman' hottie Arielle Kebbel is fantastic!)  A simply entertaining film, "Answer This!" does walk a fine line, but thankfully never gets too preachy on the religious side and doesn't get too raunchy on the boozehound side – the best of both worlds.  
Best Feature: With the 'Behind the Scenes' an ass kissing session, 'Deleted Scenes' unmemorable and 'Outtakes' forgettable, I'm going with the 'Commentary' on this one – slightly wooden, but insightful.
Best Hidden Gem: Actor Evan Jones, who plays sports trivia expert and crazed Wildman Izzy 'Ice' Dasselway – wacky and inspired!
Worth the Moola: For a comedy about trivia that safely walks in the middle of the road, this one has a lot of the right answers.