DVD Review: 'Among Friends'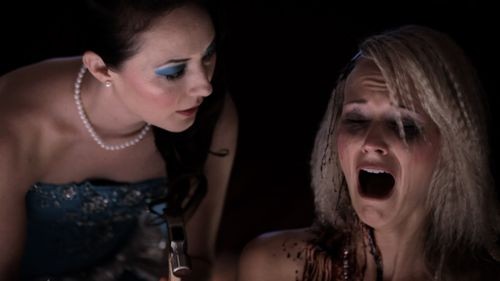 With friends like this, who needs typical horror bad guys?  We're checking out the new to DVD flick "Among Friends" out now from Lionsgate Home Entertainment.  We review the guest list and missing appendages below!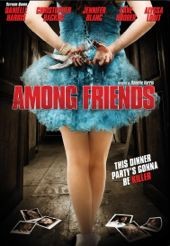 Title: "Among Friends"
   Grade: 4
   Cast: Jennifer Blanc, AJ Bowen, Dana Daurey
   Director: Danielle Harris
   Rating: R
   Runtime: 80 minutes
   Release Company: Lionsgate Home Entertainment
   Website: www.lionsgatedvd.com
The Flick: Being the directing debut of scream queen Danielle Harris, I admit I'm fully impressed.  Seems like all those years of horror glory have rubbed off, as Harris's staging here of a party gone awry is chilling indeed.  Though it's not just for the typical blood and gore gags (although there is some nasty bits that include a haircut with a tad too much off the top!), but more for a general feeling of uncomfortable unease throughout.  (Especially via odd man AJ Bowen!)  Harris makes use of her eye for the eerie even within a single set setting and with cool work by hostess Alyssa Lobit and super-hottie Brianne Davis, Harris scores a low-budget flick that bleeds directorial promise for the future.  Good show Danielle!
Best Feature: The 'Commentary' with Harris, a wry Bowen and Jennifer Blanc is a hoot for fans and friends.
Best Hidden Gem: In a single scene of improv filth, limo driver Kane Hodder steals the whole show with a foul stream of consciousness guaranteed to illicit laughter. 
Worth the Moola: Fun, feisty and full of dark mood, Among Friends makes having a bad night look mighty good.