DVD Review: 'Almost Sharkproof'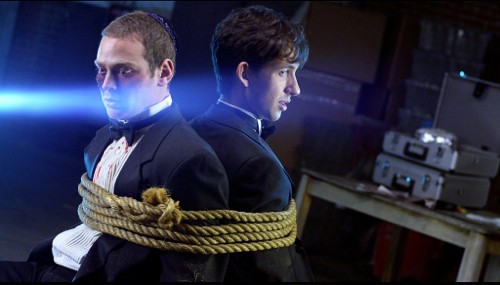 Jon Lovitz as an...underworld tough guy?  Yup, were checking out the new to DVD comedy "Almost Sharkproof" out now from Cinedigm Home Entertainment.  We examine all the laughable items below!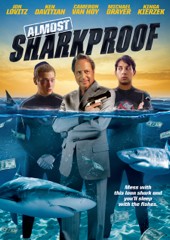 Title: "Almost Sharkproof"
   Grade: 3
   Cast: Jon Lovitz, Cameron Van Hoy, Michael Drayer
   Director: Simon Chan & Joe Rubalcaba
   Rating: Not Rated
   Runtime: 82 minutes
   Release Company: Cinedigm Home Entertainment
   Website: www.cinedigm.com
The Flick: "Almost Sharkproof" should have been a turd in a swimming pool by all accounts, but damned if it wasn't entertaining.  And frankly I couldn't tell you what was so amazing about it except for the fact that it held my interest.  It could be the inane performance by leads Cameron Van Hoy and Michael Drayer as deadbeats out to make sharkproof wetsuits, the hard-to-swallow turn by Jon Lovitz as a nightclub heavy or even unlikely parents played by portly Dennis "Saved By the Bell" Haskins and sexy Joan Severance, but in the end it was all the above that kept me from running into a great white's chompers.  I laughed, I stayed and I'm so ashamed.
Best Feature: The first time I've giving high marks for having no features – a blessing.
Best Hidden Gem: I kind of dug the hot yet stoic turn by Kinga Kierzek as the gal everyone is drooling over.
Worth the Moola: Only if you're desperate – and alone.  (And want to laugh in spite of the bile!)