DVD Review: After Dark 'Husk' & 'Prowl'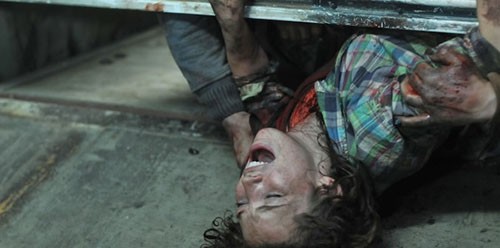 Horror is a genre that helps feed our fears.  If this is the case then the folks over at After Dark must be running the blood buffet.  With some amazing outings (see "The Deaths of Ian Stone!") and some not so great ("Nightmare Man" was torture to get through – and not in the good way!) After Dark has been cranking out the sledgehammer induced hits for the last few years.  Now Lionsgate DVD has teamed up with the horrific hosts to distribute After Dark Originals – a fully developed and produced series of features with the promise of thrills and chills.

The first two up are "Husk" and "Prowl," so let's take a look at each with it's DVD features and see if they stand up to the fear factor!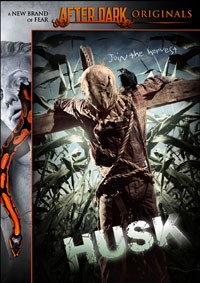 Title: "Husk"
   Grade: 4
   Cast: Wes Chatham, Devon Grayle, CJ Thomason
   Director: Brett Simmons
   Rating: R
   Runtime: 83 minutes
   Release Company: Lionsgate
   Website: www.lionsgatedvd.com  
The Flick: "Husk" is a pretty simple idea made great by chilling direction and moody pacing.  The tale of a gang of young friends who end up stranded near a cornfield and head to a nearby farmhouse only to be attacked by an evil scarecrow is only half the story.  To reveal more of the unsettling details would be a sin, but rest assure the blood, guts and scares are in full force – seeing "Husk" is a must.
The Features: A definitely decent Making-of doc that has interesting facts (Director Brett Simmons played the scarecrow in his high school production of "The Wizard of Oz!") and cool behind the scenes stuff (love seeing undead make-up applied – via fast forward!), plus a commentary track that holds attention.
Worth the Moola: Definitely – this one should be on rotation during the horror fest nights at Halloween!
_____________________________________________________________________________________________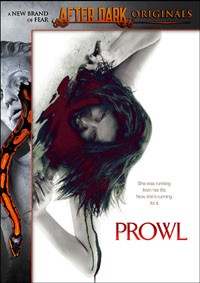 Title: "Prowl"
   Grade: 3 1/2
   Cast: Courtney Hope, Bruce Payne, Saxon Trainor
   Director: Patrik Syversen
   Rating: R
   Runtime: 84 minutes
   Release Company: Lionsgate
   Website: www.lionsgatedvd.com 
The Flick: What starts as a basic horror story about some kids in a car that brakes down and they hitch a ride with a mysterious truck driver suddenly turns uber-creative and infuses some interesting twists and turns.  Becoming food for the frenzy, the gang encounters unknown (are they vampires, cannibals or just badly behaved?!) hungry psychos and it gets even stranger from there.  Add to that a hot and kick ass heroine (Courtney Hope) and cool cameos (English actor Bruce "Passenger 57" Payne plays a hillbilly truck driver – cool!)  The skinny here is stick with this one – it prowls up on you something fierce.
The Features: This is why the grade is lower than Husk – the features are downright deadly.  Meaning the cheesy Making-of (the writer describing the flick in a bad Rod Sterling stance circled by bad guys is awful!) and virtually unlistenable commentary track (the director isn't even there – messages via cell phone by him are played sporadically!) are so bad they could diminish your view of the film.  Avoid like the plague!
Worth the Moola: For the feature film ONLY, meaning rental might be the way to go.
_____________________________________________________________________________________________
Well, that's all for this segment, but check back often as there are going to be more After Dark Originals released on DVD soon including "Seconds Apart" and "Fertile Ground" in May – till then keep the screams to a minimum!