DVD Review: 'Action Packed Movie Marathon, Vol. 2'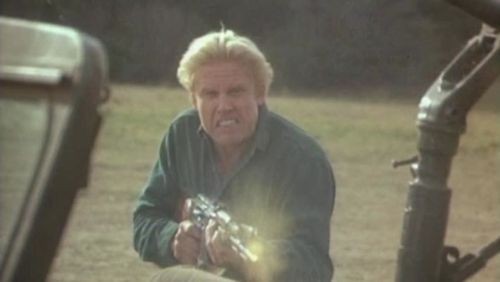 Ready to be bombarded with cocky cops, bawdy boxers, old school tough guys and sassy undercover sirens?  The follow us as we check out the new to DVD "Action Packed Movie Marathon, Vol. 2" out now from the good folks at Shout! Factory Home Entertainment.  We grade the cheese factor below!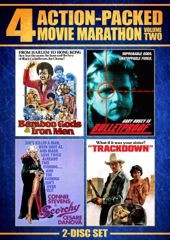 Title: "Action Packed Movie Marathon, Vol. 2"
   Grade: 4
   Cast: Gary Busey, Connie Stevens, Jim Mitchum
   Director: Various
   Rating: R
   Runtime: 390 minutes
   Release Company: Shout Factory Home Entertainment
   Website: www.shoutfactory.com
The Flicks: Surprisingly this Shout! Factory collection of B-movie action flicks has not a one bad flick in the bunch.  The Gary Busey featured flick "Bulletproof" features the crazed actor playing a cop who goes against drug baddie Henry Silva with a smile and some awesomely bad dialogue.  (Plus the rolling away strapped to a wood wheel is gold!)  "Bamboo Gods & Iron Men" is a so bad it's good film lovers dream with James Iglehart as a boxer who gets stuck with a Buddah statue with illegal items inside and an Asian bodyguard he saves from drowning all on a honeymoon trip to Hong Kong.  "Trackdown" sees tough guy Jim Mitchum kicking some LA ass (with the help of a pre-"CHiPs" Erik Estrada!) to get his sister back from the sex trade.  And finally Connie 'hottie' Stevens plays a hot and bothered undercover mother in the action cop flick Scorchy.  (And yes, that is an early "My Two Dads" Greg "Deep Star Six" Evigan!)  I am told that this is the edited TV version, but frankly how much Stevens skin do you need fans?  All outings here have equal amounts of cheddar – both fine and gamey – and this set makes for a fully entertaining fest. 
Best Feature: No features on this beautiful bastard – it need some trailers or something!  (Not even some Kathy Lee Crosby commentary?!)
Best Hidden Gem: Loved seeing "Fatal Attraction" wife Anne "Narrow Margin" Archer playing a hot and sophisticated call girl – hubba, hubba!
Worth the Moola: No extras but who cares?  You get for awesome and well worth watching flicks for one price – the action is packed and filling for sure!