DVD Interview/Review: Jeremy Dozier of 'Dirty Girl' on Singing, Dancing and Mary Steenburgen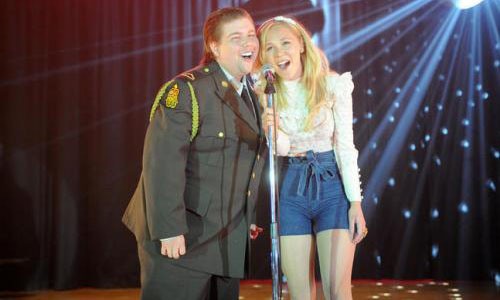 Going from a seemingly reclusive loner to a gay man out to strut his stuff – that's a notable role indeed.  It's one that newbie actor Jeremy Dozier ended up nabbing in the famed 2007 Black List of Best Liked Screenplays flick "Dirty Girl" (out now from Anchor Bay Home Entertainment!), also starring Juno Temple, Milla Jovovich, Mary Steenburgen and William H. Macy and helmed by writer Abe Sylvia.  Dozier plays a shy gay classmate who learns to come out of his shell with the help of Temple's sassy Dirty Girl Danielle.  We got a chance to chat with Jeremy about everything "Dirty Girl," from his fantastic chemistry with lead gal Temple to the audience reaction to his moving character.  The 80's have returned – here's...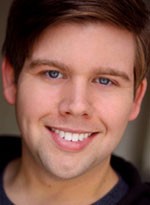 Being a script that made the rounds as being one to watch via the Black List, where did you first hear about "Dirty Girl" and what were your thoughts upon reading the script?
Jeremy Dozier: I first heard about "Dirty Girl" as a senior at the University of Texas at Austin.  There was a nationwide casting call that was posted and I made a tape at three in the morning in between studying for exams in my dorm room.  I ripped the sheets of my roommate's bed and it was a very low rent tape I sent off to California hoping that somebody would see it and want me.  It was a long process for the casting – it was about two, three years until I was finally given the part.  But when I first read the script I was floored by it.  I thought it was an amazing script and a great character and I wanted to be a part of the project.     
Your role is very complex, going through major changes over the span of the film – what would you say was the most daunting part of playing Clarke?
JD: Mostly that all of the different aspects had to come together for it to actually work.  You had to be able to dance and sing AND do dramatic and comedy scenes.  All of that had to come together for the art to work and for the audience to fall in love with him.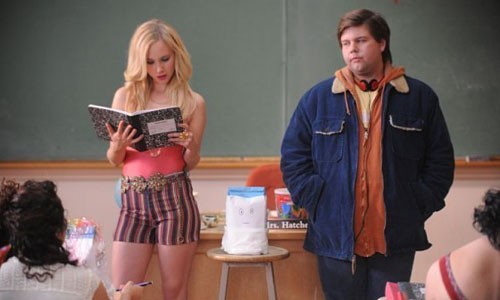 Your chemistry with the lovely Juno Temple is the heart of the film – was there an instant connection between you two?
JD: There was!  We first met at the chemistry read and after we got done with the audition we rode the elevator down together.  We just started chatting and she said she didn't drive and she was gonna take a taxi home.  And I said I have a car, I can take you home if you want.  So we rode home and we just clicked instantly.  We also had two weeks of rehearsal before we started filming and we were both learning the dances, kind of making fools in front of each other, so that broke down a lot of barriers.   
Being that Abe Sylvia also wrote the script was there any room for improvisation and what was he like as a director?
JD: He was a great director – you trust him completely.  You know that he's not going to make you look foolish, which is great when you're on stage dancing in your underwear!  (Laughs)  He knew the world of "Dirty Girl" and the characters so well that if you ever had a question, he always had an answer.  As far as improvisation, he wrote such a great script that really wasn't a need for the majority of it.
Your interaction with mom Mary Steenburgen vs. dad Dwight Yoakam is as different as the character themselves – can you describe working with each?
JD: What's great about Dwight is he is nothing like that character.  I mean you watch him and he plays that role so well that you think he must be like that, but he's not.  He's funny and down to earth and in between takes he would be cracking jokes.  And Mary – the very first day that I did scenes for the film we did all the stuff at Clark's house and it was all with Mary and Dwight.  I mean an Oscar winner and a county music legend and me coming from Texas – it was huge!  I was nervous and Mary pulled me aside and told me she knew what it was like to be in my shoes because her first film was with Jack Nicholson directing, so we bonded over that.  It was like an acting master class.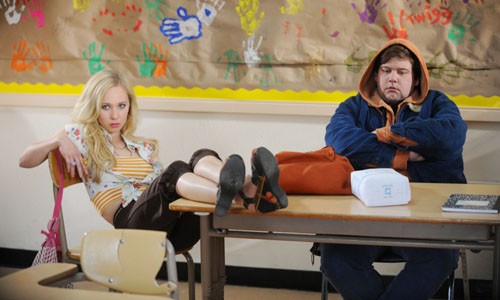 What has been the audience reaction to "Dirty Girl" – has there been anything that surprised you?
JD: From the very beginning the first time that I saw the film was at the 2010 Toronto Film Festival, it was an audience of seven hundred people, sold out theater and they ate it up.  They clapped and cheered throughout the film and gave it a standing ovation.  I'm really excited they love the film and what's surprising most is how much gay audiences identify with Clarke and his story.
What's next for you?
JD: I have two films in postproduction.  One is called "Right Next Door," it's an indie thriller that I star opposite Linda Hamilton, Ted McGinley and Hallee Hirsh.  And the other is called "Rock Paper Scissors" about a group of high school kids who put together a rock paper scissors team and compete competitively – it's really funny.
Check out the DVD review below!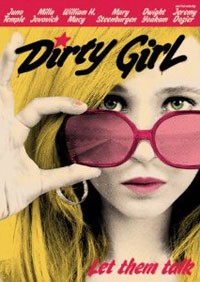 Title: "Dirty Girl"
   Grade: 4
   Cast: Juno Temple, Jeremy Dozier, Milla Jovovich
   Director: Abe Sylvia
   Rating: R
   Runtime: 90 minutes
   Release Company: Anchor Bay Entertainment 
   Website: www.anchorbayent.com
The Flick: "Dirty Girl" actually begins with the 80's teen stereotypes one might associate with such a visually inducing title (we all remember that girl!), but then wonderfully turns things on their ear.  At its heart, what makes the film such a success is the seemingly effortless but fully nuanced script by writer/director Abe Sylvia.  (There was a good reason this one was on the infamous Black List for scripts to watch for!)  Plus his cast is pitch perfect, beginning with the unusual chemistry between leads Juno Temple, as the sassy girl looking for a father figure, and Jeremy Dozer, as the misunderstood loner.  His supporting cast is a slam-dunk as well, with Milla Jovovich and Mary Steenburgen as two concerned moms, Dwight Yoakam and William H. Macy as the father figures and even a little Tim McGraw nice guy action thrown in.  Granted this one isn't gonna be for everyone (if you're not a Melissa Manchester fan this one might not be for you!), but "Dirty Girl" is a memorable dame.  
Best Feature: The feature length 'Commentary' by helmer Abe Sylvia is VERY candid (upon seeing a picture of former President Regan he quips "I don't remember him fondly – that's probably going to get me in trouble!") and makes for a revealing listen.
Best Hidden Gem: Love the very different role played by actor Nicholas D'Agosto – From "Prada to Nada" to "Final Destination 5" and now this?  That's versatility!
Worth the Moola: A clever, witty flick with a real heart that's unexpected – a hidden gem.