DVD Interview/Review: Actress Shannon Beckner Brings Brains, Beauty And Bravado To 'Super Hybrid'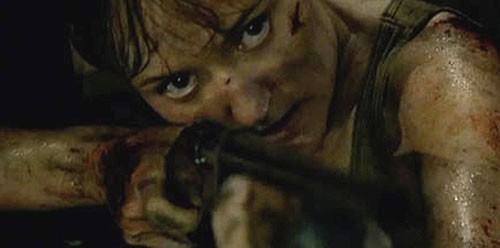 Nothing says a good action flick like a multi-faceted tough female performance and thankfully for the makers of the new to DVD/Blu-ray "Super Hybrid" (out August 23 from Anchor Bay Entertainment) they have one in the form of newcomer Shannon Beckner.  Mixing equal parts brains, beauty and bravado, Beckner's stand out work as Tilda, the unlikely leader of a group of unsuspecting on-call impound garage mechanics who find themselves trapped by a vicious alien vehicle out for blood, is the real highlight of the "Christine" meets "Graveyard Shift" thriller.  (Okay, Director Eric Valette does get some credit too!)  I recently put the captivating and cool Beckner in my article entitled "Five Actresses To Watch For", so I was more than thrilled to have a chance to chat with her one-on-one for Starpulse.  And the very humble (no need – she's awesome!) Beckner talked about everything from working in her first starring role to battling in dark and murky elevator shafts.  So get excited – we are – and welcome up-and-coming action maven...
ACTRESS SHANNON BECKNER!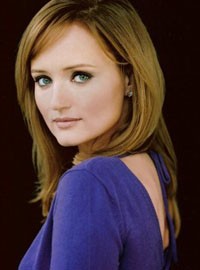 I read a story about you on your website where at a high school soccer game a girl called you out by saying, 'Stop acting so f@cking pretty and get into the game' – do you think that your character of Tilda in "Super Hybrid" could possibly be a coincidental movie manifestation of that?
Shannon Beckner: Sure - I could definitely see that.  Someone who maybe hasn't been taken seriously in a lot of the roles that she plays in life and just has to stand up for herself when the time comes.
You have a solid background in comedy, but in this flick play a seriously dramatic tough chick...
SB: I know, isn't that crazy?
So what's your passion acting wise?
SB: I think the passion IS acting.  I mean when I did Hybrid it was such a dream come true to be able to ride motorcycles and shoot guns and do stunts and train my ass off!  I never thought the girl from a sketch comedy background here in Canada would get an opportunity like that.  So I was so thankful for it and really threw myself in as hard as I could.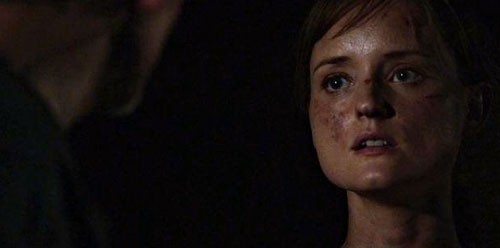 "Super Hybrid" was your first starring role – was it daunting?
SB: Sure.  I was living in Vancouver at the time and there was a writer strike going in the US and it was slow all over the place, so I was just having a good time.  And this was my first audition in Vancouver having moved there from Toronto.  I went out with very little expectation, but really excited because anytime that opportunity comes around you're like 'this would be amazing if that happened!'  And it did and it just seemed very surreal.  So I had about six to seven weeks to train and to get back on the motorcycle that I hadn't been on in a few years and go out and do it – it was everything I hoped it could be. 
What did the training involve exactly?
SB: Well, I'd been a personal trainer back in school, so I started working with a trainer again with weights, doing cardio and really just trying to build muscle.  Especially in the upper body areas since I'd be doing a lot of pulling myself up ladders, falling down elevator shafts and all that good stuff.
"Super Hybrid" could have been a cheesy B-flick, but is elevated by some slick direction and specifically your performance – did you see a lot of potential for yourself when you read the script?
SB: Yes and what actor wouldn't jump at the chance to play an action hero.  And you had mentioned Sigourney Weaver and Linda Hamilton in your earlier article about 'Five Actresses To Watch For' and I had a picture of Linda Hamilton from "Terminator 2" in my dressing room, as well as Sigourney Weaver!  You just hope you can channel a little bit of that in your performance because those are iconic performances and this was, as far as I knew, perhaps my only chance to ever get close to that.  So I was just trying to give all I could and thought of them every day – and to be compared to Sigourney Weaver is amazing because that's what I was going for!      
You play a very complex character that has a dark past, mysterious current relationship and some evident inner turmoil, what was your take on such a multi-faceted role?
SB: It's difficult because she has this back story, but one that isn't really explored through the beginning and it's not really touched on until later on and then just briefly.  But that was another level that really helped inform a lot of my choices for sure.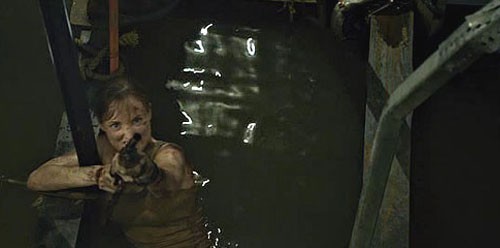 You also kick some serious ass both with the human and mechanical alien element in the flick – what was the hardest part of that aspect?
SB: There were a couple of days that I spent at the bottom of the elevator shaft.  So lots of cold water and lots of things I had to fall on.  Plus a lot of bumping and throwing myself against these metal workings that form the shaft and that was really difficult because there was a lot of repetition.  That always sticks out in my mind because the next day I woke up and there were bruises all the way up and down my rib cage and up and down both arms – and I thought it was awesome! 
Riding a motorcycle, stunt work, shooting guns – honestly, what part of playing Tilda was really the coolest?
SB: Yeah – that would definitely be the motorcycle!  I had done dirt bikes at home growing up, but it was just careening around corners and knowing that I did it.  It was a scary thing since it was close to ten years since I'd been on one and never on film before and time is money and you can't screw up.  I felt that pressure all the time, but I was really happy that I pulled it off and I was just really excited that I have that now with me forever.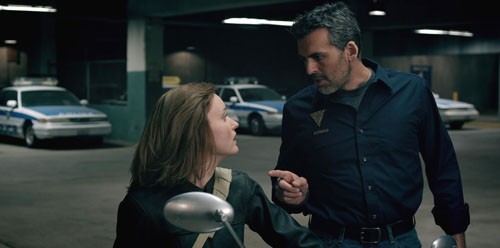 Oded Fehr plays your hard-as-nails boss and you have some great face-offs where you certainly hold your own – what was it like working with him?
SB: He was fantastic – just a great guy.  For someone who is so seasoned as he was and for me so new, I thought he was really nice to me.  To not look at me like a beginner who doesn't know what she's doing and just be very helpful and patient – I can't say enough good things about that guy.
And I did previously mention the slick direction by Eric Valette – anything interesting about his process or style on-set?
SB: He has a great sense of style and he definitely knew exactly what he was going for.  We had the pleasure of spending a couple of weeks together in Regina before we actually started shooting, so we got to know each other.  I asked him how he liked to shoot and he's a few takes kind of person – he's very specific.  But at the same time if I thought of something, he was open to trying it.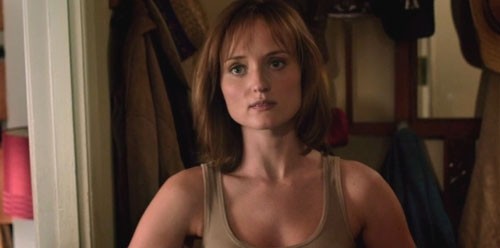 Seeing as how you come from comedy, but made such a great dramatic action heroine performance, what's coming up for you - what can we look forward to seeing you in next?
SB: Too bad you don't see a lot of action-comedies out there – that would be great!  To tell you the truth after Hybrid in 2008 I moved back to Toronto and it was one of those really weird years in 2009.  I did a pilot and I wrote a pilot and they were both comedies and they never really went anywhere – it was a very slow year.  So I took some time away, but I had trained so hard for Hybrid that I really started getting into that and did my first marathon!  And then three months ago I had my first baby – had a baby boy!  So that took me out of the game for the last year, so this release is great timing because I'm just enjoying that and enjoying my first auditions back and hopefully I'll get a chance to do more roles like that.  But life is good and so I'm looking forward to what's next – whatever that may be.
As are we – can't wait!    
Now check out the DVD specs for "Super Hybrid" below!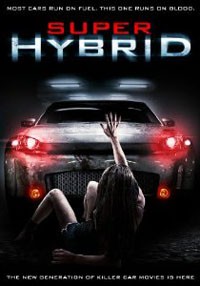 Title: "Super Hybrid"
   Grade: 4
   Cast: Shannon Beckner, Oded Fehr, Ryan Kennedy
   Director: Eric Valette
   Rating: PG-13
   Runtime: 94 minutes
   Release Company: Anchor Bay Entertainment
   Website: www.anchorbayent.com  
The Flick: What could have been yet another bad B-movie about a shape-shifting killer alien car is fortunately given seriously cinematic life from two unmistakably awesome elements.  The first is some slick direction of filmmaker Eric Valette, who forgoes the cheesy Roger Corman style of movies and instead goes for a more Carpenter via "Christine" vibe that sets a memorable tone.  The other is a standout action heroine turn by newcomer Shannon Beckner, who mixes the emotion of Weaver in "Aliens" with the brawn of Hamilton in "Terminator 2" – it's a performance to watch.  The rest of the cast is decent and the monster car effects do hold attention, but without all of the above "Super Hybrid" might have been just Okay Hybrid. 
Best Feature: 'Under the Hood of Super Hybrid' is a fully detailed doc (Anchor Bay continues to do this – thank goodness!) with looks at everything from stunts to cast (even Valette admits to being smitten with the work of Beckner's audition!) to even, my favorite, cars.
Best Hidden Gem: Do you need to guess on this folks?  One word – Beckner.
Worth the Moola: While the premise might seem a tad on the cheesy side and a killer car might not be your cup of tea, to miss out on sizzling style via Valette and impressive work ala Beckner would be super stupid.