DVD Interview: Writer/Director Keith Bearden On Porn, Kim Cattrall And 'Meet Monica Velour'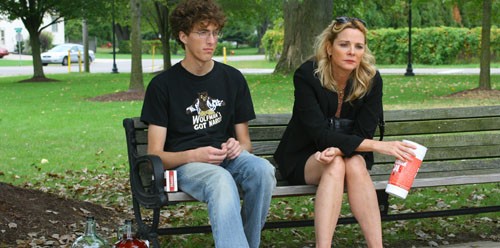 What's more satisfying then worshiping and watching the films of a classic and iconic adult film star – how about meeting her in person?  Such is the initial premise of the funny, witty and surprisingly moving new film "Meet Monica Velour" (hitting DVD and Blu-ray on August 16 from Anchor Bay Entertainment) featuring a rare and candid performance by the underrated Kim Cattrall as the now older Monica and newcomer Dustin Ingram as her geeky gentleman caller.  The film, which also features work from greats like Keith David and Brian Dennehy, is the brainchild of writer/director to watch for Keith Bearden. (His dead honest commentary track on the special features is worth the DVD price alone!)  Starpulse got a chance to chat one-on-one with the saucy Bearden, who in full frisky form talked about everything from shooting cheesy porn material to getting Dennehy to drop his drawers (not an easy feat folks!) and all the good stuff in between.  So stop your grinnin' and drop your linen, here's... 
WRITER/DIRECTOR KEITH BEARDEN!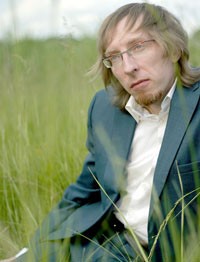 Where did the idea for "Meet Monica Velour" come from?
Keith Bearden: I cast a kid named Dylan Cole in my short film "The Raftman's Razor."  He was 17, a virgin, beautiful, wore vintage suits in the summertime and fascinated with weird old pop culture.  I didn't think kids like that even existed in the Facebook age.  I also started hearing stories about retired porn stars on hard times like Ginger Lynn, who was the biggest adult video star of the eighties, who has to sell her used underwear on eBay to pay for her sick kids medical treatments.  I knew there was a story there that people were not telling.  One day while stuck in a traffic jam, I started writing on my friends unpaid parking tickets and I kept writing all the way home.  A few months later the script was done.
Did you personally have any porn star crushes growing up – any film favorites?
KB: I think the first nude woman I remember seeing an image of was eighties porn star Mai Lin.  (Not to be confused with Vietnam War memorial architect Maya Lin, who is sexy in her own way!)  She fascinated me as a teen, but I never stalked her.  (But if you're out there, Ms Lin, let's have coffee!)  I was more obsessed with real people.  I once walked about ten miles trying to find a college girl I danced with at a party when I was in high school in flip flops in ninety + degree heat.  That's almost like driving cross-country in a hot dog truck.
Were the scenes of Monica's famed early work fun to shoot?
KB: We shot all the porn stuff in two days, very quickly, just like they really would.  We had a lot of fun coming up with cheap set and costume ideas.  The walls of the space ship in our "Star Wars" parody are made of TV dinner trays.  It was the first thing we shot, and I remember all the nudity made my mostly male crew very nervous - there was sort of a panic sweat smell in the air.  The women were very relaxed however.  When our porno Frankenstein monster attacks two starlets and rips their shirts off, if you watch closely you'll see both the ladies are laughing!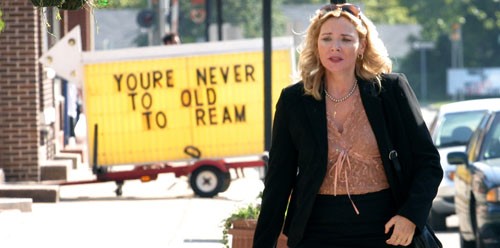 Kim Cattrall is an inspired choice for the role of the troubled Monica, but can you talk about how you approached her with the script and how you ultimately convinced her to play the part?
KB: A number of big actresses read it and were interested, and Kim and I met early on because we're both New Yorkers.  We had lunch at a cheap Thai place.  I had never seen "Sex and the City," but she had great screen presence in her eighties films and I know she got great notices for her stage work.  We talked about the script, joked around and we got along famously.  At the end of the meal I said, "Look I think you're great, but you're the best looking fifty-two year old woman in America - you're way too good looking for the part.  If we're gonna do this, I want you to gain a lot of weight and we're going to make you look bad at every turn.  I'm gonna blow Samantha Jones into tiny little pieces - are you up for that?"
As I walked home, my producer Jordan called me and said, "What did you say to her?" And I said, "Oh God, she hates me, right?"  And he said, "No, her agent called and said she really wants to do the movie."  I was honest with Kim from the start and that goes a long way to gaining trust.  Kim was also very, very committed to being great and transforming herself - her attitude was essential in delivering what I think is an amazing game-changing performance.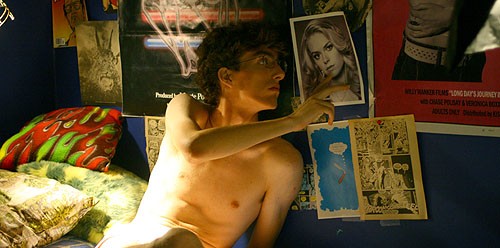 Dustin Ingram plays just the right amount of geek and naïve boy – where did you come across him for that part?
KB: We had tons of auditions on both coasts.  Dustin's first audition was pretty bad and I didn't want him for the call back.  My producers kind of forced it on me.  But when he did his second round, he was terrific.  Also, Dustin had authentic things in common with Tobe - he's really sweet, romantic, sheltered suburban kid with a good sense of humor.  A lot of the kids we auditioned were either not really teenagers (Dustin was eighteen), little uber-nerd mutants or Hollywood actor kids with model girlfriends who probably had coke orgies at fancy hotels.
I loved the cool trinkets and décor of the place owned by Keith David's character – how did you get so many wonderful slices of American culture?
KB: Sweet Lou Trabbie, our production designer, worked his butt off.  A lot of the stuff was written in the script and we had many long conversations about the character and what his life and history were like.  We were one of the first films to shoot in Michigan and Lou was conquering virgin territory movie prop and set wise.  He once said, "It's easier to get props in Istanbul than it is in Detroit."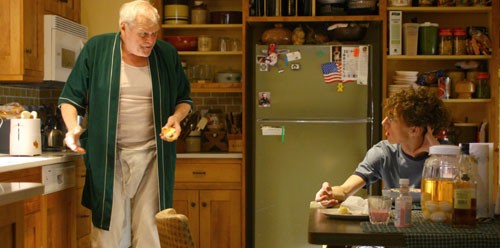 I love anything Brian Dennehy, but how did you ever convince him to go sans underwear?
KB: Brian is a salty old Marine who has more celeb, booze and fistfight stories than any actor alive.  His managers were petrified of his nude scene and told us repeatedly that he wouldn't do it.  Brian's response was, "It's a good script. I'll do whatever the f@ck you want, kid."  And there you go.
So what's next for you – what can we look forward to?
KB: Golly, you want the honest answer or some Hollywood BS?  I've got a crazy sweet little movie called "God Hates Kansas" that I'm raising money on Kickstarter for starting in a couple of weeks.  Kim Cattrall and I are planning on making another film together.  I don't have an agent (never have!) and nobody knows why.  I think in 2011 if you don't make films with CGI robots, muscle queens in capes or comedies with four guys talking about vaginas for ninety minutes the movie industry doesn't want anything to do with you.
___________________________________________________________________________________________________________________________ 
"MEET MONICA VELOUR" HITS DVD AND BLU-RAY ON AUGUST 16 FROM ANCHOR BAY ENTERTAINMENT.