DVD Interview: 'Dexter' Dance Diva Aimee Garcia Struts Her Stuff In 'Go For It!'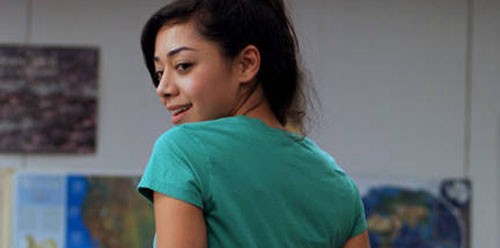 Remember the passion, intensity and love for all things movement via the original "Flashdance?"  Well, add more multi-ethnic dancers, a real and raw street style and some sizzling Latin heat via sexy dance lead Aimee Garcia and you've got "Go For It!" hitting DVD this week from Lionsgate.  We got a chance to chat one-on-one with the super busy (she's currently working with Michael C. Hall on "Dexter!"), but super styling Aimee who gave us the lowdown on her character Carmen, performing all her own dances moves and what makes hot on-screen chemistry.  Clear a path and make some noise for lovely Latina sensation...
ACTRESS AIMEE GARCIA!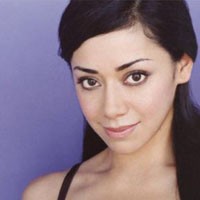 Director Carmen Marron is quite vague in the DVD commentary about where she drew from in order to write the script for "Go For It!" – what did she tell you about her personal connections to the story?
Aimee Garcia: It's semi-autobiographical.  She's a Chicago native and she would tell me that she loved to dance and would go to the clubs and dance and she's one of nine kids.  She comes from a wealthy family, but she always had a really great work ethic and big dreams.  And I think that anyone who saw her on-set bringing this film to life got to see her tenacity and sheer will to make it.  I think behavior is so much more influential then words, so I actually did more observing of her then anything else.  Her will to get something done and not take no for an answer was just unbelievable, so I wanted to add that to my portrayal of Carmen.  Not be limited by my environment – and just go for it!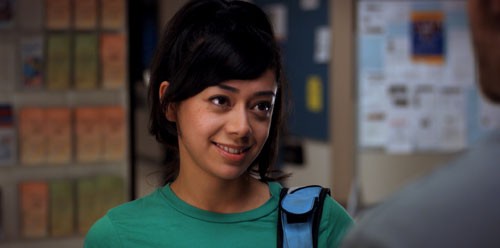 How did you hear about and ultimately get for the role of the tough and guarded Carmen?
AG: They sent me the script and I loved it.  I really responded because I'd always wanted to carry a movie and it's not every day you see a woman carry a movie – especially a Latina.  And I myself started dancing professionally as a kid; I'm from Chicago and I was a classically trained ballet dancer.  I broke into the business dancing in Chicago doing multiple productions of 'The Nutcracker' and I've always loved dance – as a kid and all through high school.  When I read the script I though wow, I've always wanted to do my own "Flashdance" type of movie and I've always wanted to do my own dancing, so I couldn't pass up this opportunity.  So I do all my own dancing in the movie – there's no body double or dude with a wig.  It's straight up Aimee G doing her own dance moves. 
The film almost pays homage to "Flashdance" with its celebration of natural talent in the face of tough professionals and trying to make it from the bottom – did you have sense when you made the film?
AG: Definitely.  It was total guerilla filmmaking – we shot the entire film in eighteen days.  We had no budget, no stars, we just had a lot of heart and we made it work.  We didn't have money for re-shoots and I knew that, so I basically trained for eight months prior to the film taking four to five dance classes a week.  And I learned the entire dance routine on-set off of my computer!  So in between takes I would open my laptop and learn the dance routines because I knew that A - I couldn't get injured and B – we didn't have time to do more than a few takes.  But that raw feeling I think really comes through.  People have been asking me what makes this film different than other dance films and I really think it's the authenticity of it.  It's not a glossy studio movie where the dancers have three weeks to train – it's the beat freaks and Harjuku girls dancing in the alleys figuring out the routines the night before shooting.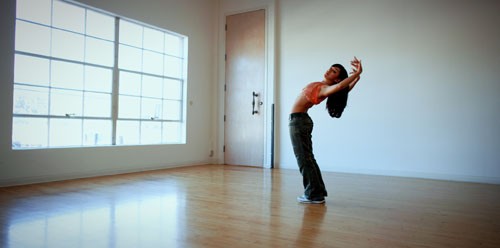 What would you say was the hardest or most challenging dance sequence for you?
AG: I would say the final one because I couldn't rely on my fantastic dancers who have shared the stage with Janet Jackson and Pink and Michael Jackson and Gwen Stefani – when you're sharing the screen with them you know that you've got pros on either side and you're good.  But in the final dance routine, much like Flashdance, it's just YOU!  I had a minor freak out the night before; I had one training session with Reno who is actually one of Gwen Stefani's Harajuku Girls and I felt completely overwhelmed.  And she said, 'You know what?  If you mess up – mess up big.'  And I actually did!  So if you look closely in the final dance routine – I trained professionally in ballet – I ended up messing up and I just started doing ballet in the middle of this hip-hop routine and they kept it in the final cut.  It was the best advice I could have gotten because as long as you're dancing from the heart people will forgive you.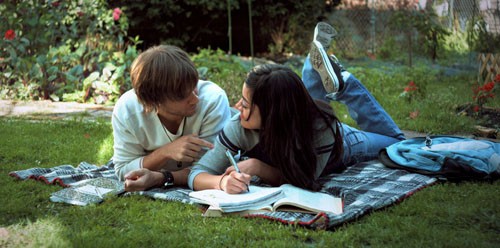 The chemistry between you and co-star Derrick Denicola was very powerful – what makes for good on-screen chemistry in your opinion?
AG: I don't know, but it's something you can't fake.  You either have it or you don't.  Right now I'm shooting "Dexter" and a love interest – who will remain nameless - on the show people keep saying 'your chemistry is so great' and I just think I don't know.  Being comfortable and I think it's a testament to people you work with because you're only as comfortable as they make you.  And everyone in the cast, especially Derrick, was so open.   
You mention "Dexter" and you've been doing some work on the groundbreaking show recently – what has that been like?
AG: It's been a dream come true.  It's so surreal working on a show that's so highly regarded and so critically acclaimed and so full of surprises.  The writers have won Emmy's and going to work every day with Michael C. Hall, who is such a talented actor and comes from Broadway and Six Feet Under – it's all so amazing.  It was my favorite show since season one – I can't stop smiling when I think about Dexter.  I'm living the dream!
You previously worked on both "CSI's" and I'm a huge fan of both David Caruso and William Peterson – can you talk about the difference between the two shows?
AG: Yeah!  It was great fun and they're both machines.  Caruso's a character; I remember when I went on set and he told me to pull up a chair outside his trailer and we started talking about the relativity of time!  (Laughs)  You never really know where it's gonna go with Caruso!
What's next – what can we look forward to?
AG: Well I'd love to shoot another feature, but right now I'm shooting "Dexter" and I've been one hundred percent focused on that…but we shall see and I'm excited.
____________________________________________________________________________________________________________________________________________________________________________
CHECK OUT "GO FOR IT!" OUT NOW FROM LIONSGATE HOME ENTERTAINMENT