DVD Flashback: 'The Streets of San Francisco,' Season 3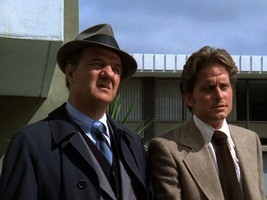 Cop-show fans can return to The Streets of San Francisco today, as CBS Home Entertainment releases Season 3, Volumes 1 and 2 on DVD.
One of the best police dramas of the 1970's, Streets of San Francisco starred the late Karl Malden as Lieutenant Mike Stone and Michael Douglas as his energic partner, Assistant Inspector Steve Keller. Season 3 aired from fall 1974 to spring 1975, and was Douglas's next-to-last with the series.
What makes the show so enduring is its pairing of two reputable actors - one already well-established and the other on the verge of his own star-making career - and their fantastic chemistry together. While some aspects of the show now feel understandably dated, it's always a pleasure to watch Malden and Douglas working together. Though Stone and Keller are very different in age and experience, the actors make it feel like they're equals, because they mesh together so well.
For Douglas fans in particular, this is a great selection because it's his pre-breakout role - the one where he established his name and learned much from Malden, whom he once referred to as "my mentor." You get a chance to see him craft the character of Steve Keller over a long period of time, rather than the two hours of a feature film.
In addition to the success of the leads, Season 3 also boasts some wonderful guest appearances. The late Leslie Nielsen makes the season opener, "One Last Shot," with his performance as alcoholic cop Joe Landers, who tries to cover up the accidental death of his partner. For people who are only familiar with Nielsen's comedic roles in Airplane! or the Naked Gun movies, it's a chance for you to see him in a totally different light.
And for a series that is now almost 40 years old, Streets of San Francisco looks remarkably solid on DVD. There are some scenes that show the muted colors and grain of age, but there are others that look as bright and clean as any present-day TV show on DVD, and the sound is without foible. It's obvious that great care was taken with this DVD transfer.
The menus are simple and easy to navigate, and there's closed-captioning for the hard of hearing.
The one complaint to be had is the one that is common to classic TV series on DVD: a lack of special features - although it's forgiveable in this case because the two people who would make them worthwhile would be Malden and Douglas.
It's unfortunate that the show is being released in volumes instead of whole seasons, of course, but that's not a reason to avoid checking out what is a fantastic series.
Both volumes of The Streets of San Francisco can now be ordered using these links: Season 3, Volume 1 and Season 3, Volume 2. It's also worth noting that Season 4 - Douglas's final season - will be released later this year and can be pre-ordered at a discount using this link. Happy flashbacks, DVD fans!
For more from Brittany Frederick, visit my Starpulse writer page and follow me on Twitter (@tvbrittanyf).
(c)2012 Brittany Frederick/Digital Airwaves. Appears at Starpulse with permission. All rights reserved. No reproduction permitted.