Dustin Hoffman Pretends To Kiss One Direction's Niall Horan On David Letterman (Video)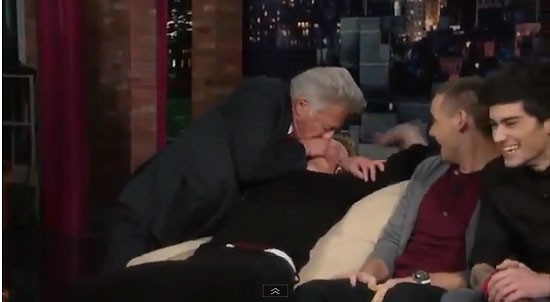 Dustin Hoffman pretended to passionately kiss One Direction star Niall Horan on the "Late Show With David Letterrman" on Friday.
When 1D took the stage, Hoffman, who was also a guest, also appeared. As the band of five squeezed onto the couch, the actor sat on the arm of the sofa and put his arm around Horan before nearly knocking him over with a pretend smooch.
Hoffman was heard saying, "I'll kiss you on the mouth, ready?" before covering Niall's mouth with his hand and pretending to make out with the star. The audience went crazy over the stunt.
 
The actor left the stage immediately afterwards, and the sloppy kiss looked so convincing even bandmate Louis Tomlinson had to ask if it was real.
Horan responded, "He put his hand over (my mouth). He told me he was gonna do it."
Check it out: