Duke And Duchess Of Cambridge Moving Into Palace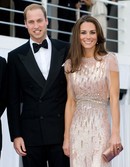 Prince William and his wife Catherine, Duchess Of Cambridge are preparing to move into a new home in one of Britain's historic palaces.

The royal couple has been permanently based in Anglesey, Wales, where the Prince works as a search and rescue pilot with the Royal Air Force, and they stay at Kensington Palace in London during trips to the British capital.

Queen Elizabeth II has now given them permission to move into the palace full-time.

They will take up residence at the apartment complex within the building which was once lived in by the queen's late sister, Princess Margaret.

The couple's new home, which features a dining room, drawing room, study, staff quarters and a nursery, will be extensively renovated before they move in in 2013.