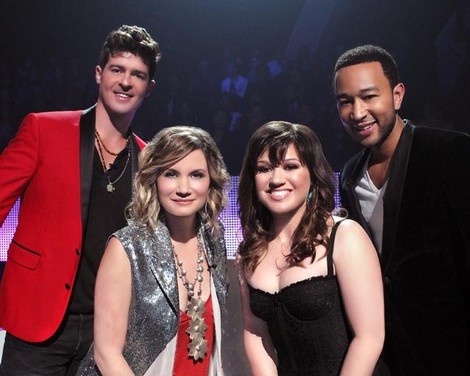 Last night the singing reality competition show "Duets" crowned its first winner in a grand finale show filled with performances.  
Eliminated singers Bridgit Carrington and Olivia Chisholm returned for performances with their mentors John Legend and Robin Thicke.  With the elimination of Carrington last week, it ensured that the inaugural winner of the competiton would be a guy as Jason Farol, John Glosson, and J Rome made it to the finals.
After having to sit on a stool due to an injured foot for the past two weeks, Kelly Clarkson got her groove on in the opening performance with fellow mentor Jennifer Nettles with the performance of "Would I Lie to You" and later with singer Jason Farol on "Heartbreak Hotel."
Jennifer and her singer John Glosson performed "For Good" from the musical "Wicked"; while J Rome and Jennifer performed "Rhythm of the Night" by El DeBarge.
After all of the performances "Duets" host Quddus called all three finalists on stage to announce the winner.  But before the big announcement, Quddus revealed that the fan votes placed Jason Farol in thrid place.
Finally the big reveal and the winner of "Duets" and a recording contract with Hollywood Records was...
JROME!!!!!