Duck Dynasty Stars: See Them Before The Beards!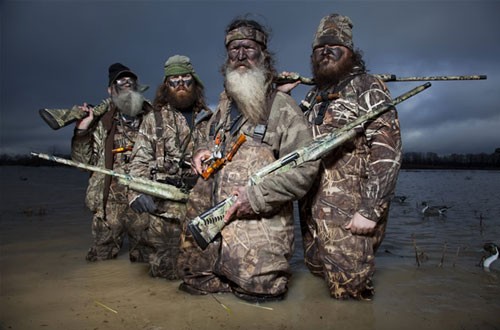 They stars of reality-TV's top-rates show, Duck Dynasty, haven't always looked like a cross between ZZ Top and the starting lineup for the Boston Red Sox.

In fact, before Willie Robertson and his brothers Alan, Jase and Jep became household names, they were all pretty normal looking guys -- a far cry from a bunch of Louisiana rednecks who are more fanatic about duck season than Elmer Fudd.

A new, never-before-seen photo of the guys from 2001 was obtained by Life & Style Magazine shows the guys with clean-shaven faces.

"They've all stayed pretty much the same over the years, even with the fame and fortune," a family friend tells the magazine. "They're all so grounded."

The show's latest season, its fourth, kicked off to record ratings on August 14, pulling in 11.8 viewers, the most ever for a nonfiction television series.

"Willie has always been the jokester of the family," adds the insider. "Alan is the only one who kept the clean-cut look. And Jase and Jep have always been quieter and more reserved than their brother Willie."

The extended family of nine adults and 11 grandchildren, which makes up the cast of the show, splits $200,000 per episode -- a far cry from the $45 million their Duck Commander duck call business is expected to make in 2013.