'Duck Dynasty' Star On Indefinite Hiatus Following Gay Remarks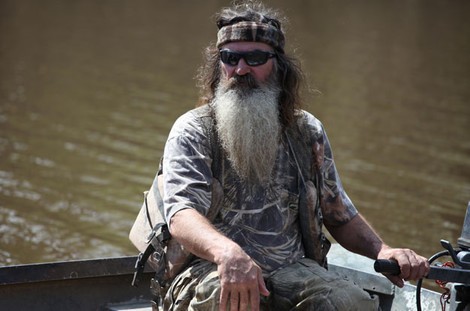 Phil Robertson from "Duck Dynasty" got himself into a whole lot of trouble this week after suggesting homosexuality is a sin. The reality star has been put on indefinite hiatus from the A&E show for comments he made in a recent GQ magazine article.
Robertson, 67, condemned bestiality and adultery and also said homosexuality is a sin. Asked to describe sin, he stated, "Start with homosexual behavior and just morph out from there."
He added that he couldn't understand why men would want to sleep with each other, saying, "There's more there! She's got more to offer. I mean, come on, dudes! You know what I'm saying?"
An A&E spokesman says TV executives are "extremely disappointed" by the comments, adding they "in no way reflect those of A&E."
The Gay And Lesbian Alliance Against Defamation (GLAAD) was quick to slam Robertson, insisting his views are "some of the vilest and most extreme statements uttered against LGBT (lesbian, gay, bisexual amd transgender) people in a mainstream publication."
Robertson and his family run a multi-million dollar family duck hunting business in Louisiana. They fabricate top-of-the-line duck calls and decoys out of salvaged swamp wood.