'Duck Dynasty' Family Teams Up With Mossberg To Release Line Of Hunting Rifles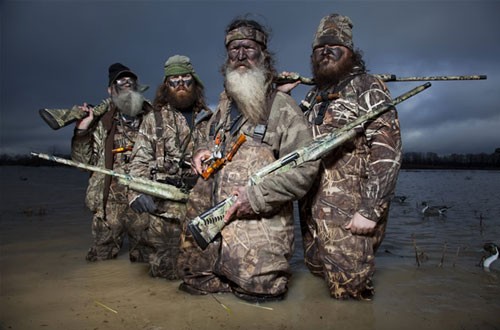 You can't go duck hunting without a good rifle, right? That's why Mossberg is teaming up with Duck Commander, the company owned by the Robertson family from A&E reality TV series Duck Dynasty, to launch a new line of firearms.

The gunmaker has already begun shipping some of the nine different shotguns, two semi-automatic rifles and a semi-automatic pistol, all of which feature the Duck Commander logo engraved on the stocks and are painted with a waterfowl camouflage design.

The .22 semi-auto pistol is described as "lightweight, easy to shoot, and perfect for small game, plinking, target shooting -- or clearing cottonmouths out of your duck blind."

All the new guns come with an American flag bandanna, like the one worn on the show by Willie Robertson.

Family patriarch Phil Robertson founded Duck Commander in 1972 years ago after he created the Duck Commander duck call. Since then the family-run business has grown to a $400 million company, according to Forbes magazine.

Robertson recently came under fire over comments he made about homosexuals in GQ magazine. A&E suspended him from the show, but reinstated him a week later after pressure from fans.