'Duck Dynasty' Cast's Contracts Could Keep Family From Ending Show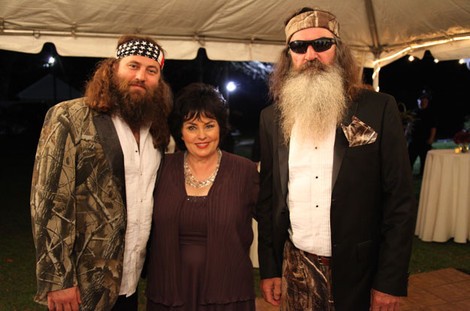 The Duck Dynasty cast has been public about discussions over whether or not they will continue to produce the show with A&E, but their current contracts with the television company may take the decision out of their hands.
The family is hesitant to work with A&E again following patriarch Phil Robertson's suspension due to controversial statements he made in a recent GQ interview. However, a source tells FOX411, "It's not as easy as just not returning to the show, since they all have binding agreements. It's the network's option, not theirs. Plus the family makes far too much money selling merchandise because of the show. It would be a bad business decision to leave it."
It's worth noting that the cast may value family over business, but even family can't negate a contract. An attorney tells FOX411 it's likely each family member has a separate contract, which means they would all have to fight breach of contract claims separately. Their contracts reportedly included morality clauses as well, allowing A&E to dismiss Phil.
Duck Dynasty is considered to be A&E's most-watched show, with 12 million tuning in for the season 4 premiere and 9 million watching the show's Christmas Special earlier this month. If A&E was even willing to give that up, they still hold the rights to everything under the name "Duck Dynasty."
The fifth season of the reality show premieres January 15.