'Drunk' Chrissy Teigen's First Pitch Went Pretty Well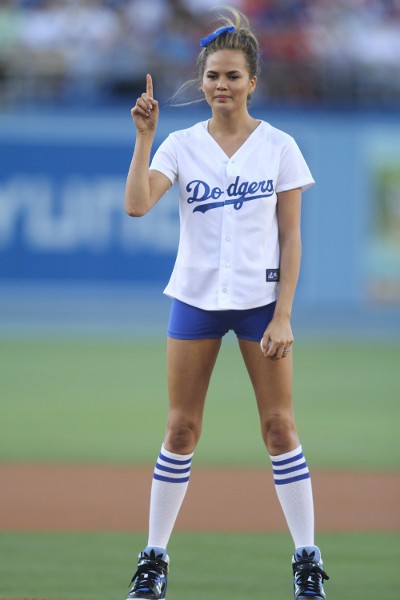 Chrissy Teigen threw the ceremonial first pitch for the L.A. Dodgers last night, and if she appeared a little loopy it's because her dad got her drunk beforehand.
Teigen was celebrating her father's birthday earlier in the day when she tweeted to her fans at 7 PM, "Crap I'm pretty drunk" and "My mom is bombed." She then put on her jersey - #40 and the last name "Nugz." Dodgers reporter Michael Lananna revealed the jersey choice was "because '40 Nugz' is her favorite drunken food at McDonald's."
Crap I'm pretty drunk

— christine teigen (@chrissyteigen) August 5, 2014
Despite whatever level of alcohol was in her system by the time she took the mound, Teigen actually delivered a pretty good pitch. We've seen some horrific first pitches from celebrities (Teigen specifically mentioned 50 Cent's terrible toss in a recent tweet), but the model threw one over the middle and just barely bounced it in front of the plate.
Throwing out the first pitch at the @dodgers game August 5th. Making john practice with me now. I have such a false confidence after 50cent

— christine teigen (@chrissyteigen) July 31, 2014
What do you think of Chrissy's pitch?