Drummer Says The Faces Sound 'Better Than Ever'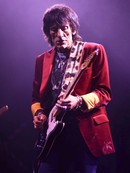 Drummer Kenney Jones insists The Faces sound better than ever now guitarist Ron Wood has cleaned up his act and got "the woman thing out of his system".

A week before he, Wood, Ian McLagan and Rod Stewart reteam for a rare performance at their Rock & Roll Hall of Fame induction, Jones is confident fans will like what they hear.

And he thinks much of that has to do with Wood's sobriety and the end of his women chasing following the break-up of his marriage.

He tells Mojo magazine, "It's actually more together. On a good night, we used to blow everyone's head off, but every night's a good night night now.

"And Ronnie's in better shape than any of us now. He's got his life together, got the woman thing out of his system, and he's even given up smoking. Now he's in charge of his own destiny."

Jones, McLagan and Wood reunited for shows in 2010 with singer Mick Hucknall after Stewart pulled out of a get together, citing scheduling conflicts. The four-piece last performed publicly together in 1993.