Drowning Pool Parts Ways With Singer Ryan McCombs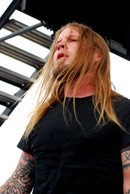 Heavy rockers Drowning Pool have dumped their frontman Ryan McCombs.

The singer joined the group in 2006, but guitarist C.J. Pierce has revealed he and his bandmates have decided to move on without him.

He writes, "We have always been a band who has gained success despite having multiple singers... Changing things up has not always been easy, but the band has become re-energized time and time again."

"We are looking to find a new singer who will give both us, and most importantly our fans, the new adrenaline shot they deserve. We do wish Ryan great success in his future endeavors."

McCombs is expected to reunite with his former bandmates in Soil after joining them for a recent U.K. tour.