'Drop Dead Diva' Recap: Mishaps, Mistakes And Misrepresentation Make For A Dramatic Diva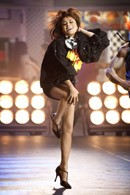 On the last night's episode of Drop Dead Diva Jane heads into work with frazzled and confused about her one-night stand with Grayson's Neurosurgeon Dr. Bill, and is also consumed with her best man duties planning Grayson's bachelor party and taking on a new case.  First, Jane tries to call Bill who has yet to call her back and the ever-noisy Terri questions her on what that was about when she realizes they slept together. She congratulates Jane and says she must be thrilled but Jane's to confused and preoccupied with her latest case. Her client Molly is suing the sperm bank Zygolife she used to conceive her son Eli because he is a dwarf and has acondroplasia that has caused him a lot of medical problems and her lot of financial ones. She felt this could have been prevented if the labs tests for genetic screening had worked and because of his illness he will require surgery and physical therapy for life.  Meanwhile, Parker is not giving up on Kim and heads to the coffeehouse aka her office to drop off her lingerie and just see her again.  She berates him for being unprofessional and literally flaunting her dirty laundry in front of everyone and for not giving her the recommendations she asked for to the other firms she applied to.  Meanwhile, while Jane is planning a relaxing 4-course elegant dinner for Grayson's bachelor party and Vanessa stops by Grayson's office to make sure he is still going to meet her father for drinks after his bachelor party because he wants Grayson to officially ask him permission for Vanessa's hand in marriage.  Jane has her hands full with Grayson's bachelor dinner, and things get even more complicated when Parker says he cancelled Jane's dinner in favor of taking Grayson out to a gentleman's club, where Fred and Jane join them.  At the club, while Jane is get a lap dance from a stripper, Grayson leaves Vanessa a voicemail and gets friendly with a stripper when she has an asthmatic attack from his smoke machine. Grayson makes her feel better, gives her advice and lays on the charm.  Jane is having a hard time getting out of the clutches of her new friend when in the midst of it all, her phone rings hoping it's doctor bill she's quick to answer but when it slips out of her hands and up on stage, Jane shows she has moves of her own trying to retrieve it.  However, it's only Stacy who is worried about Fred.
The next morning both Stacey and Fred wake up happy but Stacey's happiness is short-lived when she's worried Fred's hiding something from here when he dodges talking about his past. Jane assures Stacey it's probably nothing and tells Fred he better come up with a past quickly before Stacey becomes more suspicious.  Back at the office, Grayson's remnants of his bachelor party appear in his office when the stripper he saved from the attack says she was fired for complaining about the smoke machine. Grayson calls Vanessa again to blow off lunch with her dad and tells the stripper she has a case.  In another courtroom, Jane gets ready to try her case but not before Fred corners her for info and what's going on between her and Bill and ask her advice about Stacey. Jane says she's called Bill four times but he hasn't called her back and he needs to think of a past quickly or he'll face Stacey's wrath.
Jane's client's son Eli goes to see Jane about pursuing the lawsuit against the sperm bank for product liability without his mother. Jane has a victory when she's won the right to represent Eli and Eli gives Jane the evidence she needs to prove her case a letter written by his mother the day she got pregnant stating that she wanted a child that would life a life without boundaries and limits and unfortunately he has both.
Grayson's court case with Sarah the stripper is short-lived when she impresses the judge with sexy new shoes and he reinstates her at work. However Sarah's fight isn't over when her and her colleagues return to Grayson's office saying that Bobby Z the owner of the club has made them employees and they are no longer independent contractors and unable to keep their tips. 
All of Jane friends are worried about her and ask her if Bill has called but she says no and they all tell her she deserves better, so she calls Bill and tells him it's over.
Parker is still pursuing Kim both personally and professionally when he shows up at one of her interviews and asks her to come back to the firm but she says no.  Back in the courtroom Jane and Grayson are both dealing with trying cases.
In Jane's case Molly breaks down describing her pain and the life she wanted for her son, when he sees her anguish he tells Jane to stop but Jane [proceeds to win the case heading home happy. Grayson is thrown for a loop when he arrives in his courtroom to find the judge is Vanessa's father.
Grayson the professional that he is pleads his case on both counts and wins the case and Vanessa's father's blessing.
Meanwhile Kim agrees to take her job back at the firm but with a raise and without Parker in her life.
After arriving home, Jane receives a knock at the door to find Bill there to say he think he's left his phone there by accident she deleted his messages but he thanks her for a second chance. Maybe there's romance in the cards for Jane after all?