'Drew Carey's Improv-A-Ganza' Advance Review
I still have fond memories of Whose Line Is It Anyway?, the half-hour improvisational comedy series that began as a UK edition from 1988-1998, and then an American version from 1998-2004 on ABC (in fact, reruns still air on ABC Family). When Whose Line was on, almost everyone I knew was watching it. Now GSN is giving us the next best thing: Drew Carey's Improv-A-Ganza, another half-hour comedy series that features many of the Whose Line performers.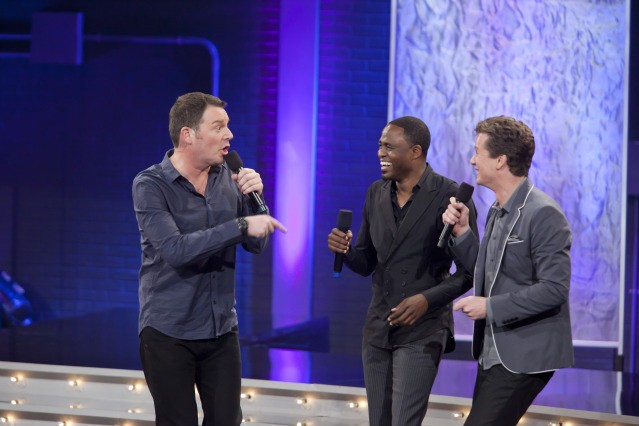 Seriously, you've seen most of these people before. Aside from Carey, the cast includes Whose Line regulars Jeff Davis, Chip Esten, Greg Proops, Brad Sherwood, Colin Mochrie and Ryan Stiles. They're joined by Carey's Drew Carey Show colleague Kathy Kinney, who guested on Whose Line, and Jonathan Mangum, who appeared on Carey's last improv TV series, Drew Carey's Green Screen Show. The lineup is rounded out by MadTV alum Heather Anne Campbell, and Wayne Brady, who is set to appear as a recurring "special guest." As far as improvisational comedy goes, this is a pretty well-known troupe - the closest we'll ever get to a revival of Whose Line. That being the case, though, the bar is set fairly high. These people made us laugh very hard for a long time.
Taped at the MGM Grand in Las Vegas, Improv-A-Ganza is generally the same show as Whose Line, with only two minor differences; there's no single host (different cast members explain each game) and gone is the faux point system. All the games in the premiere episode are ones taken from Whose Line or variations thereof; one is the old standby "Moving People" (which uses the same explanation of rules and even the same suggestion as that on Colin and Brad's recent DVD Two Man Group) and another, "Kick It," is similar to "Scene To Rap." (Sorry, no "Hoedown" to be had here.) The major difference is that Improv-A-Ganza is much slower than Whose Line. Only one game is played per act of the half-hour show. This wouldn't be so bad if they were uproariously funny, but while you'll get some good laughs out of the show, it's not as instantly memorable as its predecessor.
It's not the fault of the performers; anyone who's been lucky to see any of the Whose Line alums in their various live shows (Drew Carey's Improv All-Stars, Wayne Brady's Making It Up at the Venetian, or Colin Mochrie & Brad Sherwood's recent tour) knows they are, by and large, hilarious. For example, I took my family to one of the early Improv All-Stars shows, and my father laughed so hard that he actually hurt himself. Where things start to get less funny is when audience members get involved. I got my start in show business in improv and stand-up comedy, so I know how difficult it can be; I'm not expecting random people to be able to keep up with Ryan Stiles, but there's a difference between out of their element and woefully bad.  One of the audience members on Improv All-Stars is so bad, it borders on painful. She freely admits, unprovoked, that she's drunk and it becomes clear very quickly that she must be hammered, because she has no idea what she's doing and starts disrupting the scene as if she's the third player. There are laughs, but they're either the audience laughing at her, or from the performers trying to deal with the insanity unfolding on stage. Short of administering a blood alcohol test, there's no way this could have been prevented, but it's a train wreck I don't need to see again.
That aside, it's still great to see these performers back on television again, though I would love to see more of them in the mix; several don't appear at all in the first episode, which also relegates Colin Mochrie (whose last name the show's announcer mispronounces as "Mocharie" in the opening credits) and Greg Proops primarily to hosting duties. Jonathan Mangum gets a lot of screen time, and he's a trooper; the poor man is pretty much abused throughout and somehow rolls with all the punches. Carey, who was sometimes criticized for his participation in games on Whose Line, stays mostly on the sidelines of the new show.
What keeps me from being overly excited about this show's success is that the pilot episode barely scratches the surface of what they'll be allowed to offer us. I want to see more of them participate in the games, more of the games I remember, and I'm curious to know if they'll be allowed to get away with more now since this series airs on cable. (I can say that the language in the first episode is censored.)
Drew Carey's Improv-A-Ganza shows a lot of promise. It has, for my money, the best cast an improv fan can ask for. The question will be if the series will use them to their full potential. Not doing so can kill this series just as quickly as it did Drew Carey's Green Screen Show. If GSN gives this troupe room to breathe, however, we could be laughing in our living rooms on weeknights for a long time.
You can check out Drew Carey's Improv-A-Ganza for yourself when it premieres two weeks from tonight (Monday, April 11, at 8 PM and 11 PM ET/PT and on weeknights thereafter) on the Game Show Network.
http://tinyurl.com/67f6po9