Drew Barrymore's Wedding: All The Details About Her Perfect Day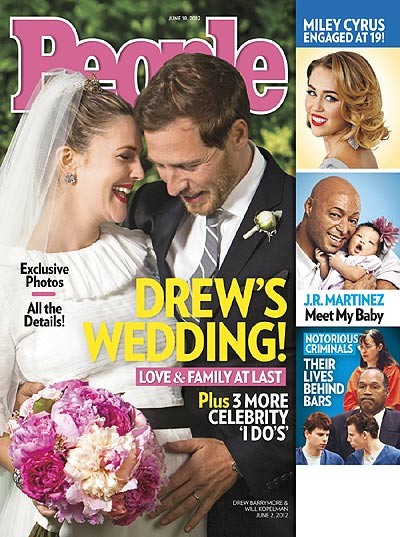 Drew Barrymore and her art consultant fiancé Will Kopelman tied the knot last weekend in a "fun and meaningful" backyard wedding featuring Chanel couture, more than 14 carats of diamonds, a gourmet feast, and plenty of A-list friends. But ask Drew Barrymore which special touches at her wedding were the closest to her heart, and she brings up – what else? – the good old-fashioned fun. This week's issue of PEOPLE features exclusive photos and details from Drew's perfect day.

The actress loved the silhouette-maker who "cut away through the night," she told PEOPLE the day after her June 2 nuptials, along with the photo booth snapping "beautiful black-and-whites" and a kids' area with a "teepee, blankets, pillows and a mini movie theater playing Pippi Longstocking and Finding Nemo." Surrounded by 190 family members and friends, Barrymore, 37, and Kopelman, 34, an art consultant, put their own joyful stamp on the celebration. "The day was perfect," Barrymore tells PEOPLE. "Everyone we love and care about was there. It was as fun and meaningful as we ever could have hoped."

Held at Barrymore's $5.7 million Mediterranean-style Montecito, California home, the nuptials had a decidedly – and intentionally – low-key feel. "They just wanted a backyard wedding," says event planner Yifat Oren, who, along with Stefanie Cove, put together an "ethereal" party with a "vintage romantic" style for the couple and guests including Cameron Diaz and Reese Witherspoon. "Drew was so effervescent and so happy in every bit of food she took, every speech, every song," says Oren. "She's just the real deal."

Now pregnant and due later this year, Barrymore was more than ready to make it official. "Drew actually wasn't nervous; she was all about it," says Oren. "She was excited and happy." The actress, whose father, John, died in 2004, was escorted by her groom's father; her production partner Nancy Juvonen was her matron of honor. Wearing a Chanel dress specifically created by head designer Karl Lagerfeld himself (the groom is the son of Arie Kopelman, the former CEO of Chanel), Barrymore "looked gorgeous, completed relaxed and beautiful," says a source close to her. "She was radiant."

After the sunset cocktail hour, guests tucked into a family-style dinner catered by L.A.'s Lucques restaurant, featuring fried chicken and steak and a roast by Barrymore's bridesmaids. "That's when I laughed the hardest," Barrymore tells PEOPLE. "Everything they said was deadly accurate, but it was all in such a good spirit."

By 1:30 a.m. the pair had slipped off to the nearby San Ysidro Ranch hotel to spend their first night as a married couple. Leaving in a vintage Mercedes convertible adorned with pink roses, "Drew and Will would not stop kissing," says a source. "They looked super happy."

Exclusive photos and details of Drew's big day appear in the June 18 issue of PEOPLE, on newsstands now.