Drew Barrymore Shares Her First Baby Pictures & Opens Up About Motherhood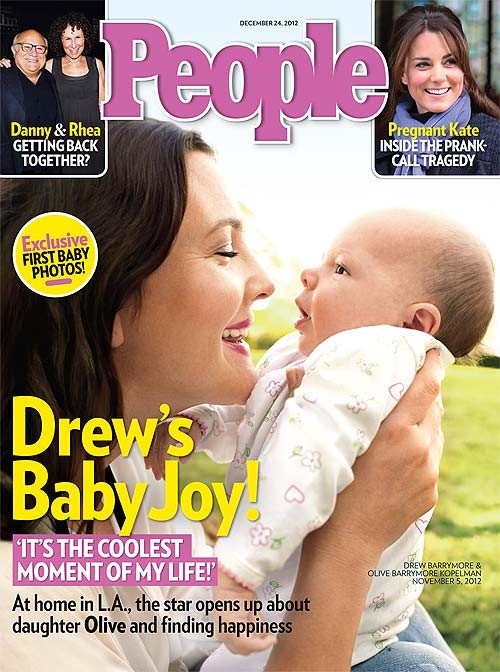 Nine weeks after the birth of her daughter, Olive, Drew Barrymore opens up to People in this week's issue about the joys and challenges of becoming a new mom, finding love with her husband, 35-year-old art consultant Will Kopelman, and how her life will never be the same. "This is a place where it feels right," the actress, 37, says of sharing the first photos of Olive with People. "I was thinking back the other day to the many milestones I've had in this magazine. It was a very positive, introspective moment."

Looking back on her own tumultuous childhood, she knows all she has learned will benefit her daughter. "I'm ready to try to be the best parent I can be," she says. "As life gets shorter, the stakes get higher. And this is the most important thing I will ever do." Excerpts from Drew Barrymore's interview with PEOPLE are below.

People: Okay, let's go back to the beginning. How did you tell Will?
Drew: I just sort of knew. I got this gut instinct and found out the way probably every other woman finds out. I called Will and said, 'Where are you? You need to come home.' I feel like for most men that drive home is the my-life-is-never-going-to-be-the-same drive. We've been so happy since the news. On one level it's so scary, and on the other level it's like, 'This is going to be awesome!'

People: Any morning sickness?
Drew: I was nauseated all the time at first but hardly ever threw up. I lived on Saltines and club soda. Lived. But it got a lot better, and then I would sit with my little legs crossed and just eat…I just had a total enjoyment of food.

People: How much weight did you gain?
Drew: About 40 lbs. I think I gained an extra five the last week because I was so late and like, 'Forget it! All bets are off! I'll have two cheeseburgers!'

People: Have you taken her out in public yet?
Drew: No. I'm very protective of her right now. I know that unless we were to move into a bomb shelter that she will have to go out into the world and be exposed to a life that I've set up for myself for 37 years. I'm trying to figure out how to do things differently than I grew up. I know a lot of what works and what doesn't work. I've got some really great blueprints of what not to do. I will have boundaries and consistency and protection and traditions.

People: How's Will handling fatherhood?
Drew: Will's a great dad and a good husband. I really wanted a wonderful, traditional home for my kid. Will comes from a strong family, he provides a strong family [she tears up], it's amazing. For people who didn't have the strongest families or traditional families, if you can create that, you have a second chance. It just makes me so emotional because it's like a miracle.

People's full interview with Drew Barrymore and exclusive first photos of her newborn daughter Olive are featured in the 12/24/12 issue, on newsstands nationwide now.


*Also In This Week's 'People'*
Danny Devito & Rhea Perlman "Working On" Their Marriage
Frankie Muniz – My Health Crisis: "I Felt Like I Was Getting Stabbed In The Head"
Jenna Bush Hager – Baby On The Way: "We Can't Wait!"
Tom Cruise: "I Am In A Great Place. I'm Very Happy"
Mark Wahlberg On Being Starstruck By Don Rickles: "It Was Ridiculous"