Drew Barrymore And Justin Long Have Phone Sex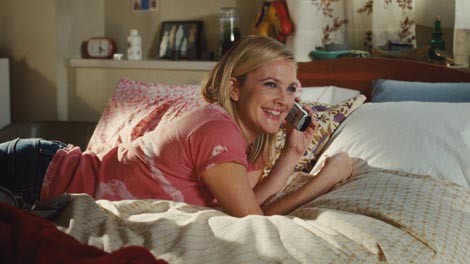 Wanna see Hollywood stars get personal? Well, in their new movie Going the Distance, Drew Barrymore and Justin Long have phone sex. They were together in real life, but as characters in a long distance relationship, they have to resort to dirty talk and self-pleasure.
"That was a great scene written and I was really excited to go out there and try it because I just thought this is one of those things that's going to fail miserably and be a really gross, upsetting moment or it could be fun and exciting," Barrymore said. "It was just one of those scenes you just have to kind of go for it not knowing if it's going to work or not but don't compromise along the way because you're afraid of it."
The actors filmed the scene at the same time, as a real phone conversation in two different sets. "We were comparing who had a more awkward experience, me as a guy in front of a room full of men simulating masturbation, or Drew," Long said. "All the guys in my room, all the crew guys were trying to make jokes to keep it light. They were making sex jokes. So it made it kind of more awkward. I'd have to laugh and then get into this weird sexual mode. But I think Drew had it more awkward because she said everyone in the room was being stone cold silent and respectful and it made it that much weirder for her. They were tiptoeing around whispering and we're in this very intimate [moment]."
Barrymore ends up talking about Mark Wahlberg's underwear adds when she pictures her on screen boyfriend stripping for her. "I did tell him that," she said. "I ran into him at an award show and I was like, 'I just talked about how hot you are in your underwear and you're sexy.' Who would not be excited about that? And he's a very nice guy. I've had other conversations with him that went much better than that. Nothing against him for sure."
Still, Long may have the winning embarrassment. "Then [director] Nanette [Burstein] kept coming over to me and she kept describing cinematically how to masturbate, how it would look better," Long said. "She's like, 'You know, try kinda up like this. You can kind of go in like this.' I was like, 'Nanette, I think I know how to do it. I've had a lot of experience.'"
Going the Distance opens Friday.